Dublin Sound Lab presents MUSIC CURRENT 2023
Music Current offers a visual treat for all music lovers as the annual four-day festival of new music returns this April.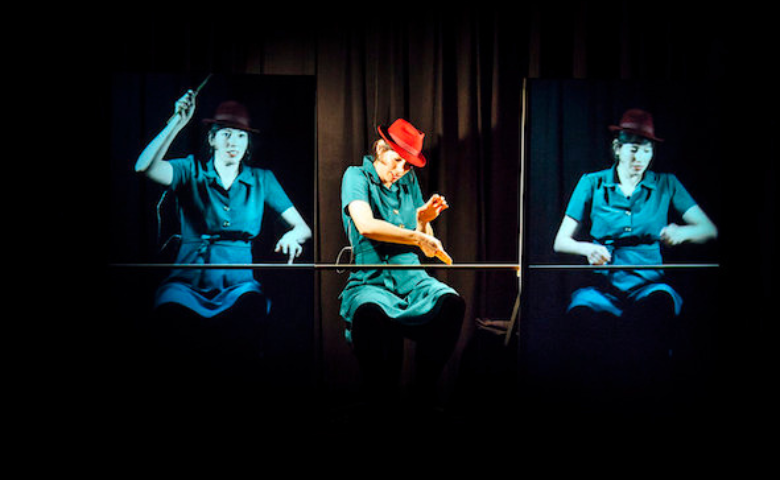 Photo Credit: Conrad Schmitz 
The festival will host four new concerts, a chamber opera, workshops and discussions that explore the cutting edge of new music, as it takes over Project Arts Centre from April 12 – 15.
Festival Director, Fergal Dowling commenting on this year's programme says:
Music Current Festival has always focused on the experience of live music, and this year we have put together a programme that is rich in multimedia, video, interactive electronics and new performance practices. Music creation is also always central to the festival and this year we have three new works written especially for Dublin Sound Lab, three workshops directly dealing with music creation, and every piece in every programme is an Irish premiere. So this really is music that has to be experienced, not just heard.
Performances
Dublin Sound Lab lead this year's concert programming with their own curated event to open the festival on Wednesday (12 April). With many Irish and world premieres, including three new works written especially for this performance by Francis Heery (Ireland), Jaki Irvine (Ireland) and Alessandro Massobrio's  (Italy) new Music Current Festival commission. This seemingly eclectic programme shows the results of extended collaborations combined with video and virtuosic interaction. Three modern multimedia and electronic music "classics" for soloists form the skeleton of the programme: Simon Steen-Anderson's (Denmark) hypnotic Study for String Instrument #3, and Johannes Kreidler's Bow – both of which are visually witty commentaries on the concept of multimedia composition and interaction – and Martin Matalon's (Argentina) masterfully sonorous Traces V  for clarinet and computer.
Natacha Diels, creates Somewhere Beautiful for her one-person show, and her very first performance in Ireland (on Thursday 13 April) staging her unique vision of musical performance as a multimedia music theatre maker. The performance is like a journey into a strange landscape occupied by sounds and images that are at once both familiar and strange, reassuring and unsettling. Diels' work combines choreographed movement, video animation, instrumental practice, and cynical play to create worlds of curiosity and unease. 
Shallfeld Ensemble (Germany) are regular guests at major international music festivals worldwide (Wien Modern, Implus, Darmstadt, Poznan, EMA). They bring their trademark innovative repertoire and performance style to Dublin and Music Current Festival for the first time with their concert Chemical Etudes (Thursday 13 April). Here they present a programme of works by long-time collaborator Marko Ciciliani, overtly referencing game culture, and integrating competitive and interactive elements from computer games into compositions and concert settings.
The first in Michael Maierhof's (Germany) series of "home operas" is a 30-minute "micro opera". Each of the works is intended to be performed in domestic spaces, living rooms or public places – at Music Current Festival Cold Sweat will be performed at the CMC Library (on Friday 14 April). Currently there are four completed works in the series, each based on a movie of a different genre. Cold Sweat (Kalter Schweis) is based on the 1970 gangster movie by the same name directed by Terrance Young and starring Charles Bronson, James Mason and Liv Ullmann. The opera focuses on a single scene showing James Mason being shot, threatening the villain with a gun, and protecting Bronson's wife.  
Nadar Ensemble (Belgium) presents a multi-layered musical and visual discourse, with avatars as main characters set into their concert Doppelgänger. The piece by Jessie Marino sets a magic and confusing atmosphere, Michael Beil and Pierre Jodlowski create a more gloomy wonderland, full of Lynchian alienation. The programme also features the Marx Brothers's Duck Soup's famous mirror scene presents us with the most dramatic moment of self-identification in the 1933 film by the Marx Brothers. Finally, Stefan Prins leads us to the dark side of the wondrous technology. 
Workshops
The festival also includes three participation workshops for audiences, musicians and composers on 'composing for synthesizers', 'composing with video', and 'composing in real time'.
Wednesday 12 April // 2pm-5pm // Composing with Synthesisers
Thursday 13 April // 2pm-4pm // Composing with Video  
Friday 14 April // 2pm-5pm // Composing in Real-Time
*All workshops will be free, booking is essential and participants are asked to contribute €5 at time of booking to cover refreshments. Workshop events are supported by the Contemporary Music Centre.
Panel Discussion
Wednesday 12 April // 6pm-7pm // Beyond Pitch: Perspectives on New Music Composition Methods
In the current New Media and post-digital environment composers are increasingly using new techniques and strategies to organise sound. Here, six composers and musicians share insights into their personal working methods, compositional techniques, rationale, and the strategies they use to approach compositional problems.
This event is hosted in collaboration with the Contemporary Music Centre. It will be moderated by CMC Director, Evonne Ferguson.
This public event is free to attend, all are welcome and booking is advised.
Music Current Commission 2023
Music Current Festival invites composers to propose a new work for DUBLIN SOUND LAB to be performed in Dublin, April 2024. The proposal may be for any combination of flute, clarinet/bass clarinet, violin, cello, piano, harpsichord, MIDI keyboard, guitar, electric guitar, electronics or video.
DUBLIN SOUND LAB directors will review proposals according to flexible criteria, including consideration of who might benefit or contribute most through engagement with the festival over an extended period. One successful applicant will be offered an award of €4.000. The awardee will then work closely with DUBLIN SOUND LAB for the year ahead, or later with agreement, and may be invited to give public presentations on their work or to contribute to outreach, mentoring, or other professional development programmes in collaboration with our production partners.
Applications close 11:59pm (GMT), Monday 10 April 2023. The winning proposal will be announced on 31 May 2023 - http://www.musiccurrent.ie
For festival booking enquiries, contact Project Arts Centre.
Music Current is produced in collaboration with the Contemporary Music Centre and supported by the Arts Council/An Chomhairle Ealaíon, and Art Mentor Foundation Lucerne.