Tionscadal na nAmhrán Ealaíne Gaeilge / Irish Language Art Song Project
FÁILTE
Fáilte go dtí suíomh idirlín Thionscadal na nAmhrán Ealaíne Gaeilge. Tá teacht anseo ar bhailiúchán de caoga amhrán ealaíne, ceol nua curtha le téacsanna Gaeilge amháin. Rinneadh coimisiúnú ar na hamhráin seo i 2019 ó chumadóirí Éireannacha agus idirnáisiúnta agus trí mhór-aidhm in aigne againn: caidreamh a spreagadh idir chumadóirí clasaiceacha agus filí Gaeilge, cur go suntasach le canóin na n-amhrán ealaíne Gaeilge, agus na hacmhainní cuí a chur ar fáil chun go bhféadfadh amhránaithe in Éirinn agus mórthimpeall an domhain tabhairt faoi amhrán ealaíne i nGaeilge a chanadh. Tá gach eolas atá de dhíth ón amhránaí ar fáil ins na scóir, le treoir fhuaimnithe san Aibítear Idirnáisiúnta Foghraíochta agus aistriúchán focal ar fhocal. Ina dteannta tá taifid chanta de na hamhráin agus taifid labhartha de na téacsanna. Cuirtear na scóir agus na taifid seo ar fáil saor in aisce d'úsáid neamhthráchtála amháin, faoi choinníollacha cheadúnas Creative Commons BY-NC-ND 4.0.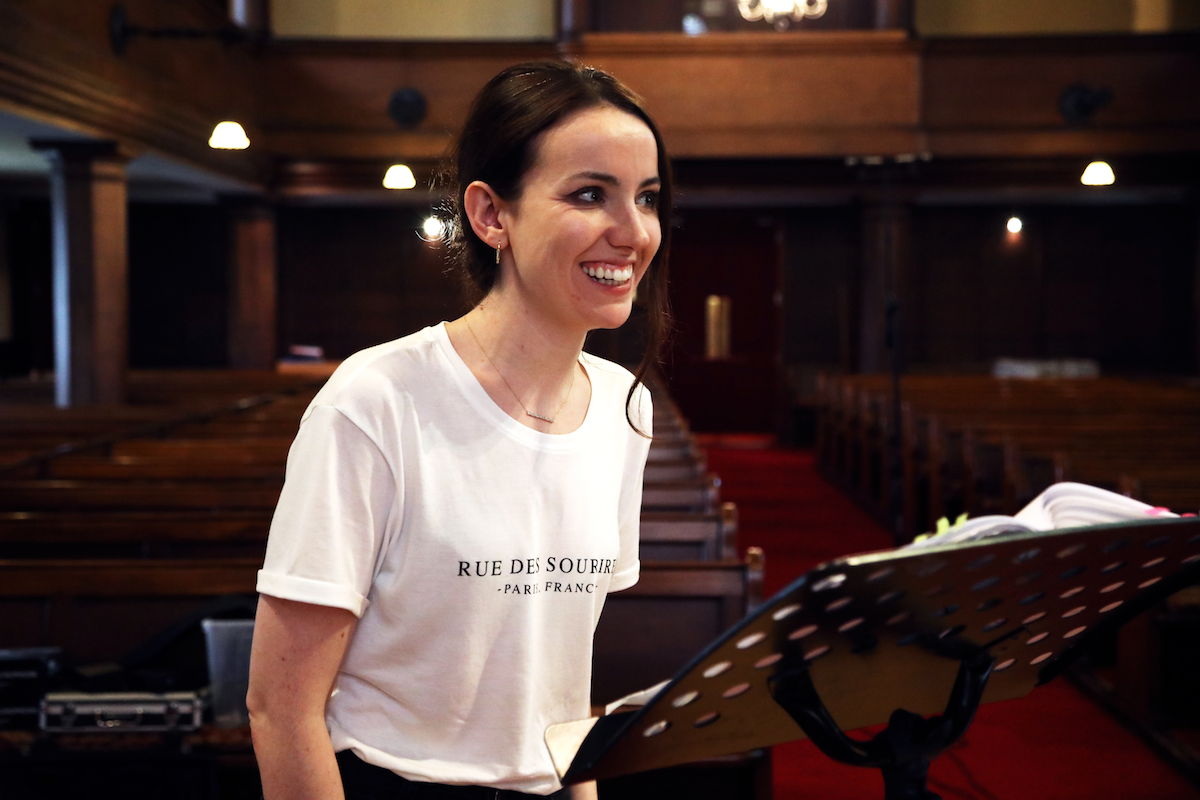 Rachel Kelly (Grianghraf/Photo Marshall Light Studio)
Is í an Ghaeilge an teanga dhúchais scríofa is sine (.i. cé is moite den Ghréigis) a taifeadadh in iarthar na hEorpa. Tá ceann de mhórlitríochtaí na hEorpa cruthaithe ag fad saoil an traidisiúin áirithe seo. In ainneoin na díobhála a rinneadh ar an teanga leis na céadta bliain, is míorúilt í go bhfuil an teanga tagtha slán inniu. Teanga thar a bheith fíleata agus ceolmhar is ea í – atá an-fheiliúnach go deo do sheánra an amhráin ealaíne i mo thuairim féin. Cloistear guthanna sna hamhráin seo ó luath-thréimhse litríochta na Gaeilge (400–700 BC) go dtí an saol comhaimseartha i 2019 anonn. Lena thuilleadh eolais a fháil ar fhilí an tionscadail seo, téir chuig www.portraidi.ie. Táimid saibhrithe ag an eispéireas seo – inár bhfínnéithe ar chumasc théacs agus ceol clasaiceach chun caoga amhrán ealaíne nua a thabhairt chun solais.
Tá buíochas ó chroí ag dul dár gcomhghleacaithe: filí agus údair, cumadóirí, amhránaithe, pianódóirí, agus rannpháirtithe eile a bhí linn ar an tionscadal seo. Tá siad uilig liostáilte ar an leathanach 'Foireann an Tionscadail'. Gabhaimid buíochas le Comhairle Ealaíon na hÉireann dá maoiniú chun tabhairt faoin tionscadal seo, agus le Ionad Ceoil Comhaimseartha na hÉireann atá ina n-óstaigh fhlaithiúla ar an suíomh seo.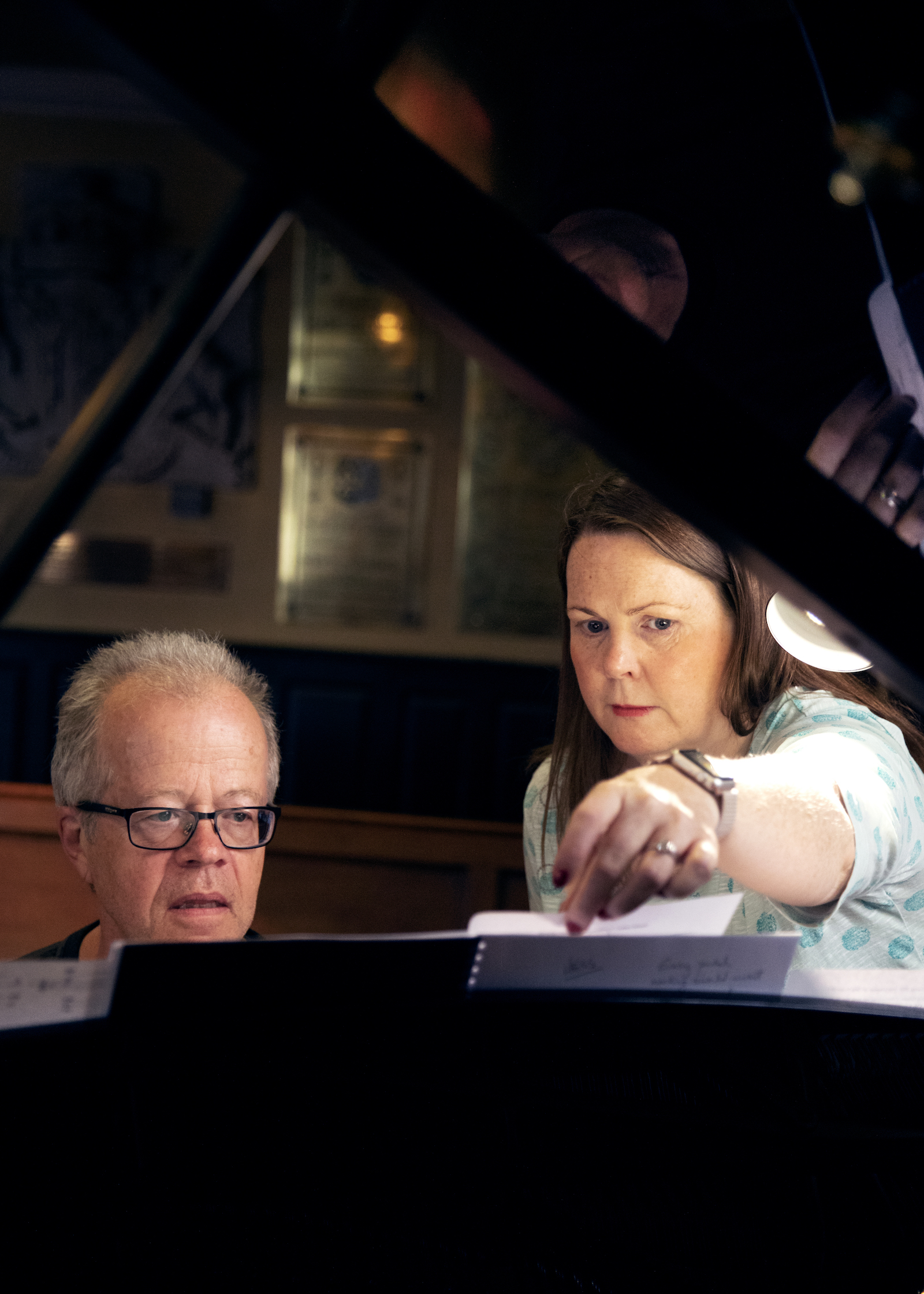 John Hess & Pauline Ashwood (Grianghraf/Photo Marshall Light Studio)
Ní fhéadfainn fiú iarracht a dhéanamh ar an tionscadal seo a chur i gcrích gan tiomantas agus díograis as cuimse ó Bhríd Ní Ghruagáin (tras-scríbhneoir IPA, aistriúcháin focal ar fhocal agus comhairleoir teangan) agus Garrett Sholdice (eagarthóir scóir agus idirchaidreamh suíomh idirlín). Tá mé go mór faoi chomaoin acu beirt.
Dáirine Ní Mheadhra, Stiúrthóir Ealaíne
_____
WELCOME
Welcome to the Irish Language Art Song website where you will find a collection of fifty new art songs set exclusively to Irish language texts. These new songs were commissioned in 2019 from Irish and international composers with a three-fold goal: to enliven the interaction between classical composers and Irish language poets, to make a significant contribution to the canon of Irish language art song, and to provide the resources to allow singers in Ireland and throughout the world the opportunity to sing art song in the Irish language. The music scores contain all the information a singer needs, including an International Phonetic Alphabet pronunciation guide and word-for-word English translation. They are accompanied by recordings of the songs and spoken-word recordings of the texts. These scores and audio tracks are made available free-of-charge for non-commercial use, under the terms of Creative Commons License BY-NC-ND 4.0.
Magali Simard-Galdès & Louise Thomas (Grianghraf/Photo Marshall Light Studio)
The Irish language is the oldest vernacular written language (i.e. non-Greek) in western Europe, and this longevity of tradition has created one of the great European literatures. Despite Irish language obliteration over many centuries, the language has somehow, miraculously, survived. It is an immensely poetic and musical language, which I feel is ideally suited to the art song genre. The art songs present literary voices spanning the earliest Irish literature (400–700 BC) up to new poetry published in 2019. To learn more about the Irish language poets involved in this project, visit www.portraidi.ie. It has been an enormously enriching experience to witness the fusion of text and classical music in the creation of these fifty new art songs.
Daire Halpin (Grianghraf/Photo Marshall Light Studio)
Heartfelt thanks to the poets and authors, composers, singers, pianists, and other wonderful contributors who took part in this project. They are all listed on the Project Team page. Thank you to the Arts Council of Ireland for the grant to realise this project, and to the Irish Contemporary Music Centre who generously agreed to host this website. I could not have attempted to complete this project without the significant commitment and extreme dedication of Bríd Ní Ghruagáin (IPA transcriber, word-for-word translations and Irish language advisor), and Garrett Sholdice (score editor and website liaison). I am deeply indebted to them both.
Dáirine Ní Mheadhra, Artistic Director