Music Current 2023: Michael Maierhof's Chamber Opera 'Cold Sweat'
Contemporary Music Centre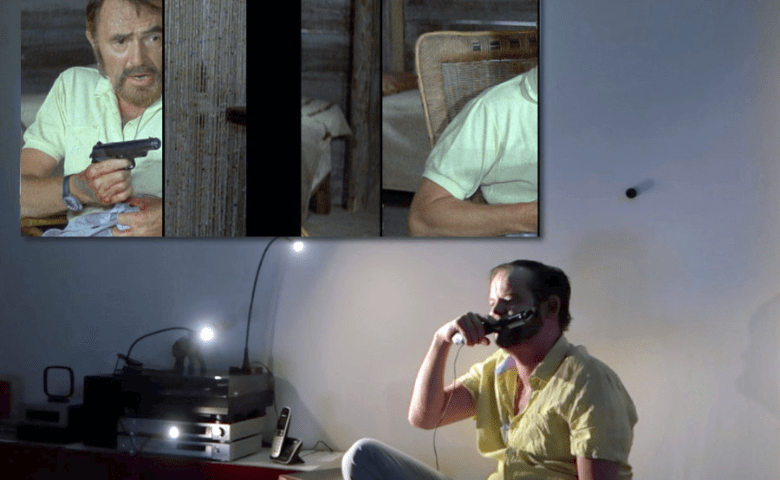 This event is part of Music Current 2023, view the full programme here.
Presenting: Cold Sweat / Kalter Schweiss (2019) [Irish Premiere]
Performers
Daniel Gloger, voice
Steffen Pohl, installation, director
Isabel Osthues, make up action, director
Michael Maierhof, composition, sound, video
The first in Michael Maierhof's series of "home operas" is a 30-minute "micro opera". Each of the works is intended to be performed in domestic spaces, living rooms or public places – at Music Current Festival Cold Sweat will be performed at the CMC Library. Currently there are four completed works in the series, each based on a movie of a different genre.
Cold Sweat (Kalter Schweis) is based on the 1970 gangster movie Cold Sweat directed by Terrance Young and starring Charles Bronson, James Mason and Liv Ullmann. The opera focuses on a single scene showing James Mason being shot, threatening the villain with a gun, and protecting Bronson's wife. The action, in keeping with that most enduring of operatic traditions, spotlights Mason's long, slow demise.
Michael Maierhof
Michael Maierhof is a German composer based in Hamburg. He studied mathematics and music at Kassel, and Art History and Philosophy at Hamburg. Since the early 90s he has written music structured using techniques other than pitch-based organisation.
His composition method involves an extraordinarily wide range of techniques and practices, including: working with instruments, objects, preparations, applications, oscillating systems and motors, and exploring longitudinal wave phenomena on nylon strings, undertones on string instruments, friction on different structured surfaces, activation of instruments and objects by mechanical and sonic motors, plastic materials for constructing new resonance spaces and developing analogue vocoder for wind instruments and the voice.
He has been a guest lecturer at Trinity College in Dublin, Stuttgarter Musikhochschule, California Institute of the Arts, Los Angeles, Mozarteum Salzburg and the Central Conservatory of Music in Beijng, China, the Musikhochschule Freiburg, Germany and in 2015 at the University of Cordoba, Argentina.
Since 2004 he has been the cellist with the improv-trio NORDZUCKER (Hamburg/Berlin) and with the quartet "Stark Bewölkt". He founded of the Association for Contemporary Music, Hamburg (vamh.de), and is co-founder of the stock11 artist network (www.stock11.de ).
Tickets
Two shows: 6pm and 8pm. Programme duration: 30mins.
Booking via musiccurrent.ie - opens soon.
Music Current is produced in collaboration with the Contemporary Music Centre and supported by the Arts Council/An Chomhairle Ealaíon, and Art Mentor Foundation Lucerne.