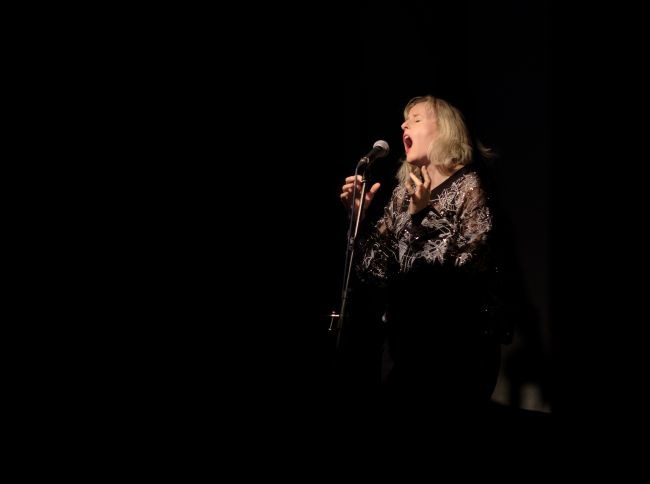 "Without a doubt, hers is the most original compositional voice to emerge in Ireland in the last 20 years."Michael Dervan, The Irish Times
Jennifer Walshe was born in Dublin, Ireland in 1974. She studied composition with John Maxwell Geddes at the Royal Scottish Academy of Music and Drama, Kevin Volans in Dublin and graduated from Northwestern University, Chicago, with a doctoral degree in composition in June 2002. Her chief teachers at Northwestern were Amnon Wolman and Michael Pisaro. In 2000 Jennifer won the Kranichsteiner Musikpreis at the Internationale Ferienkurse für Neue Musik in Darmstadt. In 2003-2004 Jennifer was a fellow of Akademie Schloss Solitude, Stuttgart; during 2004-2005 she lived in Berlin as a guest of the DAAD Berliner Künstlerprogramm. From 2006 to 2008 she was the composer-in-residence in South Dublin County for In Context 3. In 2007 she was awarded a grant from the Foundation for Contemporary Arts, New York. In 2008 she was awarded the Praetorius Music Prize for Composition by the Niedersächsisches Ministerium für Wissenschaft und Kultur. In 2009 she lived in Venice, Italy as a guest of the Fondazione Claudio Buziol. In 2016 she was awarded the BASCA British Composer Award for Innovation. She is currently Professor at the Hochschule für Musik und Darstellende Kunst, Stuttgart.
Jennifer's work has been performed and broadcast all over the world by ensembles such as the Arditti Quartet, International Contemporary Ensemble (ICE), Klangforum Wien, Alter Ego, ensemble récherche, the National Symphony Orchestra of Ireland, Orchestra Sinfonica del Teatro La Fenice, Nadar Ensemble, Solistenensemble Kaleidoskop, Ensemble Resonanz, Apartment House, ensemble Intégrales, Neue Vocalsolisten Stuttgart, Stuttgarter Kammerorchester, Plus Minus, Schlagquartett Köln, Crash Ensemble, Con Tempo Quartet, ensemble ascolta, Champ d'Action, ensemble laboratorium, ensemble ]h[iatus, ensemble surplus, trio nexus, the Rilke Ensemble, the Irish Chamber Orchestra, the Irish Youth Wind Ensemble, Bozzini Quartet, Callino Quartet, Ensemble 2000, Concorde, Kaleidoscop, Black Hair, Continuum, Ensemble Musica Nova, ensemble chronophonie, the Scottish Chamber Orchestra Wind Quintet, the Hebrides Ensemble, Psappha, and Q-02 among others. Walshe has written many operas, ranging from XXX_LIVE_NUDE_GIRLS!!! (2003) for Barbie dolls and ensemble to Die Taktik, an opera commissioned by the Junge Oper Stuttgart, which Walshe also directed – the work received 14 performances in Stuttgart in 2012.
In addition to her activities as a composer, Jennifer frequently performs as a vocalist, specialising in extended techniques. Many of her compositions are commissioned for her voice either as a soloist or in conjunction with other instruments, and her works have been performed by her and others at festivals such as Liquid Architecture (Australia), Cycle (Iceland), Soundshapes (Italy), Ostrava New Music Days (Czech Republic), RTÉ Living Music (Dublin), Båstad Kammarmusik Festival (Sweden), Maerzmuzik (Berlin), Wundergrund (Copenhagen), Ultraschall (Berlin), Transit (Leuven), Ars Musica (Brussels), Sonorités (Montpellier), Ultima (Norway), Borealis (Norway), Experimental Intermedia (New York), November Music (Holland), All Tomorrow's Parties (UK), Steirischer Herbst, Rainy Days (Luxembourg), Wien Modern, Wittener Tage für neue Kammermusik, Donaueschinger Musiktagen, the Huddersfield Contemporary Music Festival, Late Music Festival (York), Hamburger Klangwerktage, Gaida (Lithuania), BMIC Cutting Edge, Composer's Choice (Dublin), SoundField (Chicago) the Internationale Ferienkurse für Neue Musik Darmstadt, Stockholm New Music, BELEF (Belgrade), Traiettorie (Parma), Cut & Splice (London), Lucerne Festival (Switzerland), SPOR (Denmark), Frau Musica Nova (Cologne), Performa (New York), Electric Eclectics (Canada), Dresdener Tage der zeitgenössischen Musik, Reihe 0 (Austria), Stimme+ (ZKM, Karlsruhe) and MATA (New York). Jennifer is also active as an improviser, performing regularly with musicians in Europe and the U.S., and in her duos Ma La Pert with Tony Conrad, PUTIF with Tomomi Adachi and Ghikas & Walshe with Panos Ghikas. Other collaborators include film-maker Vivienne Dick, artist Alice Maher and Drew Daniel's The Soft Pink Truth.
Since 2007 Walshe has developed Grúpat, a project in which Walshe has assumed twelve different alter egos - all members of art collective Grúpat - and created compositions, installations, graphic scores, films, photography, sculptures and fashion under these alter egos. Pieces by Grúpat members have been performed and exhibited all over the world, most notably at the Dublin Electronic Arts Festival; Kilkenny Arts Festival; the Museum of Arts and Design, New York; the Contemporary Arts Museum, Houston; New Langton Arts, San Francisco; Tmu-na, Tel Aviv; Festival Rümlingen, Switzerland; Galway Arts Centre and Chelsea Art Museum, New York. In 2009 Grúpat were the feature of a major retrospective at the Project Arts Centre, Dublin, which coincided with the launch the book Grúpat by Project Press and the release of two CDs. This was followed in 2010 with a Grúpat solo exhibition titled NO IRISH NEED APPLY at Chelsea Art Museum New York. In 2011 Grúpat were featured at the Cut & Splice Festival at the ICA London, where performances and exhibitions of their work took place. In 2013 Grúpat were featured at the Huddersfield Contemporary Music Festival, where work by Grúpat members filled the Huddersfield Art Gallery and a large-scale installation by Caoimhín Breathnach filled Bates Mill.
Walshe's project, Historical Documents of the Irish Avant-Garde, involved the creation of a fictional history of the musical avant-garde in Ireland. This history spans 187 years, and is housed at www.aisteach.org, the website of the Aisteach Foundation, a fictional organisation which purports to be "The Avant-Garde Archive of Ireland." For the project, Walshe engaged a huge team of collaborators and created compositions, recordings, scores, articles and ephemera. A book of the project is available from www.aisteach.org; a digital release of music associated with the project is available on iTunes and Spotify. The project has received tremendous coverage in press and social media including features on Arena/ RTE1, Culture File/Lyric FM, The Irish Times, The Wire Magazine and The Quietus. In 2015 Cork Film Festival commissioned Walshe to make a film related to Aisteach; Walshe made AN GLÉACHT, which originally screened at the Cork Film Festival and has since been shown at music and film festivals internationally, including at Anthology Film Archives, New York City.
Walshe's work is available on many labels including Mere Records, Interval Recordings, Farpoint Recordings and Migro.
Contemporary Music Centre, Ireland