Jennifer Walshe has been elected to Akademie der Künste, Germany's Academy of Arts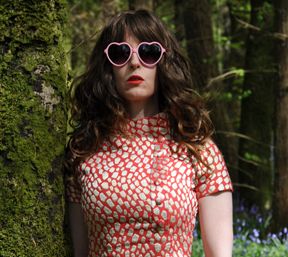 CMC congratulates Jennifer Walshe on her election to the Akademie der Künste.
One of only two newly-elected members in the field of music (and believed to be the first Irish-born member of Akademie der Künste), Jennifer Walshe now joins the music section of Akademie der Künste with Swiss-born Annette Schmucki.  Including the 17 members elected at the 53rd General Assembly in Berlin this year, this prestigious Academy now has 428 members across music, visual art, literature, the performing arts and film and media art.
Welcoming her election, Walshe said:
I am very honoured to have been elected to the Akademie der Künste. I think it's amazing that the Akademie der Künste includes members from all over the world, placing high value on input from a broad range of perspectives. I am looking forward very much to working with the other members.
Jennifer Walshe was born in Dublin in 1974. She studied composition with John Maxwell Geddes at the Royal Scottish Academy of Music and Drama, Kevin Volans in Dublin and graduated from Northwestern University, Chicago, with a doctoral degree in composition in June 2002. Her chief teachers at Northwestern were Amnon Wolman and Michael Pisaro.  
In 2000, Jennifer won the Kranichsteiner Musikpreis at the Internationale Ferienkurse für Neue Musik in Darmstadt. In 2003-2004, Jennifer was a fellow of Akademie Schloss Solitude, Stuttgart. During 2004-2005, she lived in Berlin as a guest of the DAAD Berliner Künstlerprogramm. From 2006 to 2008, she was the composer-in-residence in South Dublin County for In Context 3. In 2007, she was awarded a grant from the Foundation for Contemporary Arts, New York. In 2008, she was awarded the Praetorius Music Prize for Composition by the Niedersächsisches Ministerium für Wissenschaft und Kultur. In 2009, she lived in Venice, Italy as a guest of the Fondazione Claudio Buziol. In 2016, she was awarded the BASCA British Composer Award for Innovation. Following a period as Reader in Music at Brunel University, London, Jennifer is currently Professor at the Hochschule für Musik und Darstellende Kunst, Stuttgart.
Described by Michael Dervan as 'the most original compositional voice to emerge in Ireland in the last 20 years' (
The Irish Times
),  
Jennifer's work has been performed and broadcast all over the world by renowned ensembles.  
Walshe has written many operas, ranging from XXX_LIVE_NUDE_GIRLS!!! (2003) for Barbie dolls and ensemble to Die Taktik, an opera commissioned by the Junge Oper Stuttgart, which Walshe also directed. 
In February 2019, the 
World Premiere of h
er work 
The Site of an Investigation
was performed by RTÉ National Symphony Orchestra, with 
Walshe as solo vocalist and conducted by 
Jean Deroyer, in the opening concert of the New Music Dublin festival in Ireland's National Concert Hall. 
In an interview a
head of the premiere of her latest opera TIME TIME TIME and her new work 
The Site of an Investigation 
for New Music Dublin 2019, Walshe spoke to CMC's Jonathan Grimes about these two projects and her recent AI-inspired project with artist Memo Akten, ULTRACHUNK.
Congratulating Jennifer on this prestigious honour, CMC's Director Evonne Ferguson said:
CMC congratulates Jennifer Walshe on her election to Germany's Akademie der Künste.  J

oining an illustrious group of artists in all disciplines from the global creative community, Jennifer will bring her well-known spirit of innovation, collaboration and originality to the academy's significant international discussions and events

. 

Walshe's election to this prestigious body recognises her established international reputation.
In addition to Jennifer's activities as a composer, she frequently performs as a vocalist, specialising in extended techniques. Many of her recent compositions were commissioned for her voice in conjunction with other instruments, and her works have been performed by her and others at many prestigious international music festivals
. Jennifer is also active as an improviser, performing regularly with musicians in Europe and the U.S., and in her duos Ma La Pert with Tony Conrad; 
PUTIF with Tomomi Adachi; and Ghikas & Walshe with Panos Ghikas. Other collaborators include film-maker Vivienne Dick, artist Alice Maher and Drew Daniel's The Soft Pink Truth.
Since 2007, Walshe has developed Grúpat, a project in which Walshe has assumed twelve different alter egos - all members of art collective Grúpat - and created compositions, installations, graphic scores, films, photography, sculptures and fashion under these alter egos. In 2009, Grúpat were the feature of a major retrospective at the Project Arts Centre, Dublin, which coincided with the launch the book Grúpat by Project Press and the release of two CDs. This was followed in 2010 with a Grúpat solo exhibition titled NO IRISH NEED APPLY at Chelsea Art Museum New York. In 2011, Grúpat were featured at the Cut & Splice Festival at the ICA London, where performances and exhibitions of their work took place.  
In 2013, Grúpat were featured at the Huddersfield Contemporary Music Festival. 
Walshe's project, Historical Documents of the Irish Avant-Garde, involved the creation of a fictional history of the musical avant-garde in Ireland. Spanning 187 years, it is housed at www.aisteach.org and, in 2015, Cork Film Festival commissioned Walshe to make a film related to Aisteach, 
AN GLÉACHT
. 
Jennifer divides her time between Stuttgart, London and Co. Roscommon, Ireland. 
Her work is available on many labels including Mere Records, Interval Recordings, Farpoint 
Recordings and Migro.