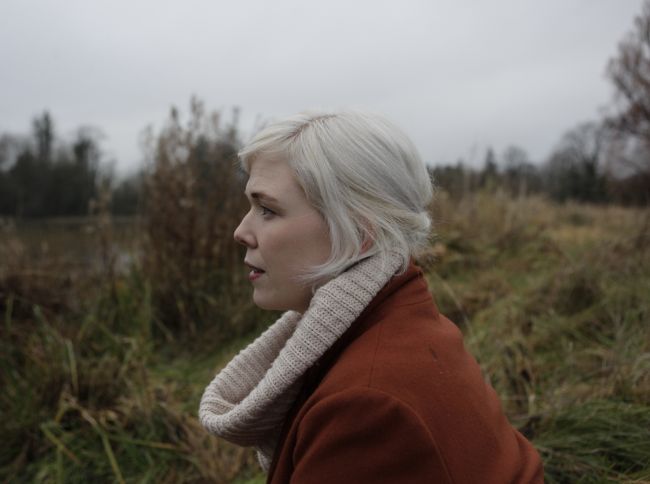 Ann Cleare is an Irish composer working in the areas of concert music, opera, extended sonic environments, and hybrid instrumental design. Her work explores the static and sculptural nature of sound, probing the extremities of timbre, texture, colour, and form. She creates highly psychological and corporeal sonic spaces that encourage a listener to contemplate the complexity of the lives we exist within, exploring poetries of communication, transformation, and perception.
A recipient of a 2019 Ernst von Siemens Composer Prize, her work has been commissioned and presented by major broadcasters such as the BBC, NPR, ORF, RTÉ, SWR, WDR for festivals such as Gaudeamus Week, The Wittenertage fur Neue Kammermusik, International Music Institute Darmstadt, Bludenzer Tage zeitgemäßer Musik, IMATRONIC Festival of Electronic Music at ZKM, MATA Festival, Taschenopernfestival, Sound Reasons Festival in India, Shanghai New Music Week, Transit Belgium, GAIDA, Totally Huge New Music in Perth, Trattorie Parma, Rainy Days in Luxembourg, Huddersfield Contemporary Music Festival, and Ultraschall. Through working with some of the most progressive musicians of our time, she has established a reputation for creating innovative forms of music, both in its presentation, and within the music itself. She has worked with groups such as Ensemble SurPlus, 175 East, The Crash Ensemble, The Callithumpian Consort, Quatuor Diotima, The International Contemporary Ensemble, The Chiara String Quartet, Collegium Novum Zürich, ELISION, The National Symphony Orchestra of Ireland, Divertimento Ensemble, JACK Quartet, Ensemble Apparat, Ensemble Nikel, The Curious Chamber Players, Yarn/Wire, ensemble mosaik, The Experimental Ensemble of the SWR Studios, Talea Ensemble, österreichisches ensemble für neue music, The BBC Scottish Symphony Orchestra, ensemble recherche, TAK, Vertixe Sonore, Ensemble Garage, Argento Chamber Ensemble, The Fidelio Trio, oh ton-ensemble, Distractfold, Longleash Trio, and soloists such as Carol McGonnell, Richard Craig, Heather Roche, Bill Schimmel, Benjamin Marks, Patrick Stadler, Carlos Cordeiro, Ryan Muncy, Richard Haynes, William Lang, Laura Cocks, Lina Andonovska, Samuel Stoll, and Callum G'Froerer.
Recent projects have focused on creating experiential environments where sound is given a visual as well as sonic dimension, such works include eyam i-v, a series of five attacca pieces, centred around clarinet and flute writing in various solo, ensemble, electronic, and orchestral settings, spanning just over two hours of music that is continuously transformed in shape, time, and motion around the listener; rinn, a time travel chamber opera involving a multichannel sonic sculpture that the singers and actors wear, interact with, and are amplified by; spatially choreographed chamber pieces such as I should live in wires for leaving you behind, anchor me to the land, and on magnetic fields; a newly-designed instrument that a musician simultaneously wears and plays in eöl; surface stations, multi-layered theatre involving the staging of extended brass instruments, vocal ensemble, and visuals.
Current and future projects include new works for Ekmeles and solo trombonist William Lang, Liminalities – a collaboration with ensemble mosaik and visual artist Anna Rún Tryggvadottir in Reykjavik and Berlin, a chamber orchestra piece for Ensemblekollektiv Berlin, a series of songs for voice and piano for The Irish Art Song Project, an evening-length work for ELISION, a video opera version of her opera rinn, and the creation of an outdoor musical playground for children with sculptor Brian Byrne.
Ann studied at University College Cork, IRCAM, and holds a Ph.D. from Harvard University. Her scores are published by Project Schott New York and she is represented by the Contemporary Music Centre, Ireland (CMC). She is Assistant Professor of Music and Media Technologies at Trinity College Dublin. As an artistic collaborator with Dublin Sound Lab, she will work on developing their programming and production of electronic music over the coming years. Ann is Projects Officer with Sounding the Feminists (#STF), a collective championing principles of equality, fairness, inclusivity, and diversity in Irish musical life.
Contemporary Music Centre, Ireland