Library Ireland Week 2019: Libraries Inspire performers and researchers
Wed 27 Nov 2019
This year's theme for Library Ireland Week is 'Libraries Inspire'. During this week we celebrate CMC Library's collection, and the knowledge and the community that it represents.
For over thirty years, the Library of the Contemporary Music Centre has provided access to the scores, recordings and related materials of music by composers from Ireland. In this feature pianist Hugh Tinney and CMC Scholar-in-Residence Orla Shannon discuss the works which have inspired them in their performances and research, and outline the role of CMC's Library in deepening their knowledge and engagement with the music of composers from Ireland. 
Hugh Tinney, pianist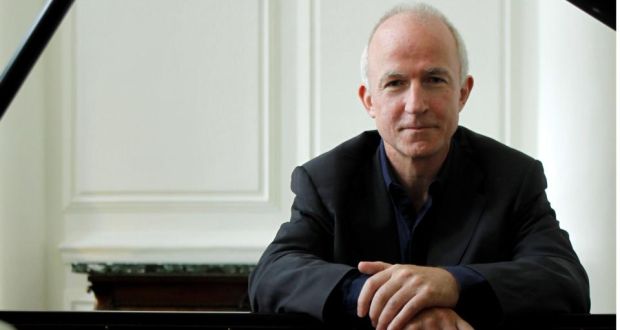 My interest in performing contemporary classical music from Ireland was rekindled when I heard After-piece No. 1: By the Clear Dark Fountain by Raymond Deane. I was attending a lecture by Eve O'Kelly, then Director of CMC, on Contemporary Irish Compositions at a European Piano Teachers Association Conference in Limerick in 1993, when she played a recording of this work. Its sonorities at the extremes of the piano and its constant key-modulations around a short tonal fragment caught my attention.  
A couple of years later, I was asked to perform some Irish works as part of the L'imaginaire Irlandais festival in France in summer 1996.  So I took myself for the first time to the CMC library, where I was able to listen to recordings (generally cassette tapes) while reading scores.  Raymond Deane and
Ian Wilson
were the two contemporary Irish composers I zeroed in on; although very different, they each had aspects that attracted me strongly to their music.  Raymond's
By the Clear Dark Fountain,
along with its companion
After-piece No. 2: The Amorous Sphinx
, as well as works by Ian Wilson,
Brian Boydell
,
T.C.Kelly
and John Field, formed the programme I presented at the Embassy of Ireland in Paris on June 11th 1996.  I had played Raymond's pieces also the previous night in a mixed recital in the city of Caen.  And in August, I repeated the Irish programme at the Merriman School in Ennistymon.
Prior to this, I had played contemporary music works by Irish composers
Philip Martin
,
Gerald Barry
and Brian Boydell in the 1980s.  After learning Raymond's
After-pieces
, which I subsequently recorded on the Black Box Label, I sought out works by other composers from Ireland and have premiered, performed or recorded works by Raymond as well as by
Aloys Fleischmann
,
E.J. Moeran
,
Howard Ferguson
, Ian Wilson,
Gerard Victory
,
James Wilson
,
John Buckley
,
Siobhán Cleary
,
Deirdre McKay
,
Jane O'Leary
,
Donnacha Dennehy
,
Seoirse Bodley
and Gerald Barry.  The summit of this commitment to Irish compositions was possibly my recital
The Irish Piano: Encounters and Explorations
on September 22nd 2016 in the Kevin Barry Recital Room at Dublin's National Concert Hall as part of the festival Composing the Island: A century of music in Ireland 1916-2016.
Orla Shannon, DCU PhD candidate and CMC Scholar in Residence
During the course of my scholar-in-residency at the CMC, I have had the luxury of enjoying unlimited access to the vast body of resources housed at its library. These materials have directly informed my PhD in its pursuit to address the issue of gender (im)balance within Ireland's existing canon of twentieth century art song.
My exploration of its shelves rendered several scores of relevance for my research; one such being a vocal work for mezzo-soprano and piano called
Girl's Song
by
Joan Trimble
(1915–2000). The work completes the composer's only song trilogy and was written in 1938 while she was in her first year of study at the Royal College of Music, London. Interestingly, it is the only song to remain unpublished of the three pieces.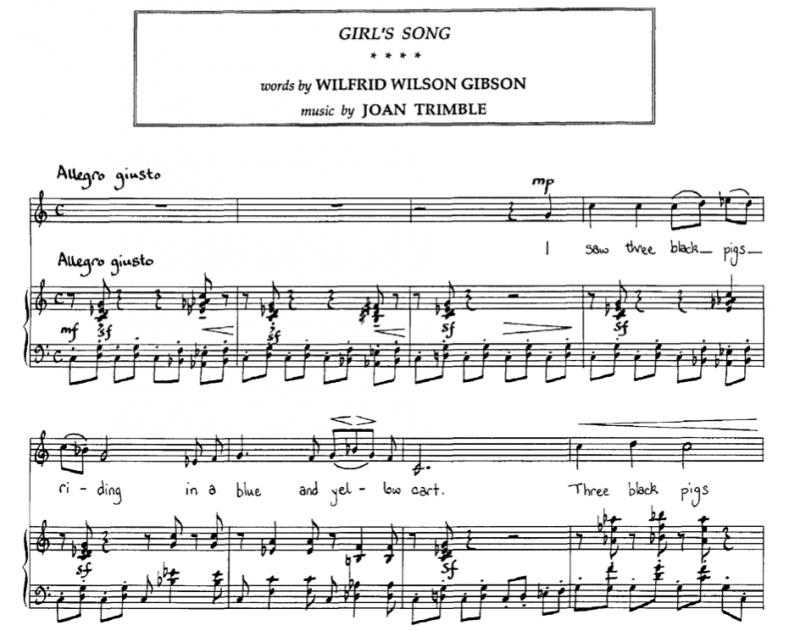 Its text is taken from to the poetry of Wilfrid Wilson Gibson (1878–1962); a British poet from Hexhem, Northumberland whose artistic reputation attained the epithet 'The People's Poet'. The poem was first published in an issue of a poetry magazine called New Numbers in 1914. It is an example of the poet's affiliation with folk anecdotes and narrative text, in this case, depicting a rural scene of a young woman watching as pigs are brought to the fair. Towards the end of the poem, a humorous reveal is presented when the reader learns that this character has little interest in the pigs but rather in the man steering the cart!
Trimble's inspiration for this choice of text most likely came from her teacher at the time, Herbert Howells, who also set Girl's Song for female voice as the final song of his collection Four Songs with Piano Op. 22 (1916). Musically, Trimble's setting embodies an overarching vivaciousness containing many references to traditional Irish music, buoyant accompaniment (often in a vamping style), and a harmonic framework embedded in modality. Although written for mezzo-soprano, I selfishly took the liberty of transposing the score up a tone so I could include this vocal work in my own recitals. Personally, I find that Girl's Song is a wonderfully energetic sing and is particularly suited as a programme finisher given its expression of such comical content.
Orla Shannon is funded by the Irish Research Council. Orla appears in episode three of CMC's podcast Amplify, where she discusses music and lives of twentieth-century Irish women composers Ina Boyle and Joan Trimble.