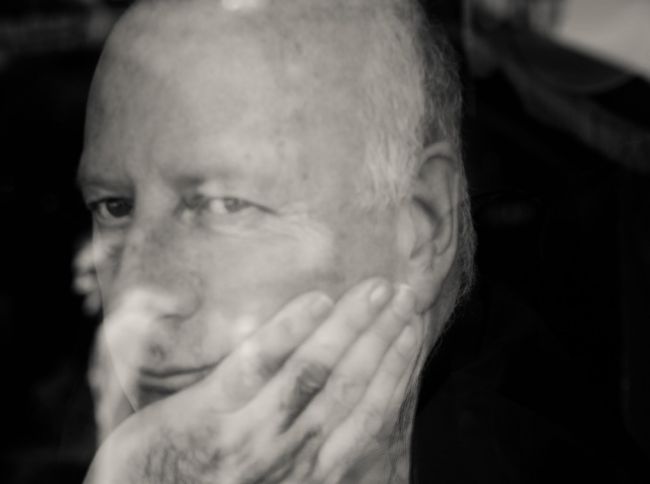 "It is written that in the beginning was the word! Hmm...already I am having problems."(Goethe, from Faust)
Roger Doyle was born in Dublin and studied composition on scholarships at the Royal Irish Academy of Music, the Institute of Sonology at the University of Utrecht and the Finnish Radio Experimental Music Studio.
He has worked extensively in theatre, film and dance, in particular with the music-theatre company Operating Theatre, which he co-founded with actress Olwen Fouéré. Babel, his magnum opus, was begun in 1990 and had its first public showing in an entire wing of the Irish Museum of Modern Art in 1992 as a dance piece. Subsequent sections were composed during residencies at the University of Washington in Seattle, the Banff Centre for the Arts in Canada, the EMS studios in Stockholm and at the Royal Conservatory of Music in The Hague. A five-CD box set, Babel, was released to celebrate the work's completion and the composer's fiftieth birthday in 1999. Other works include a piano score for the Gate Theatre production of Salomé, directed by Steven Berkoff, which played in Dublin, London's West End and on three world tours. The music, performed by the composer, was released on CD in 2000, as was the CD Under the Green Time, a collaboration with the Netherlands Wind Ensemble. A large-scale electronic work Passades was released on three CDs between 2004-2007. He was commissioned by RTÉ for a work for symphony orchestra and pre-recorded acted scenes, a soundtrack for an imaginary film, called Adolf Gébler, Clarinettist - which premiered in 2008. A second 'cinema for the ear' The Room In The Tower was premiered by the Crash Ensemble in 2009. Both were released on CD. Recent releases are: Time Machine - music composed around telephone messages from the 1980s; The Thousand Year Old Boy - explorations in imagined world musics; Frail Things In Eternal Places - a memory theatre, and the electronic opera Heresy. He is currently Adjunct Professor at Trinity College Dublin.
Awards include the Programme Music Prize (1997) and the Magisterium Prize (2007) at the Bourges International Electro-Acoustic Music Competition, France, and the Marten Toonder Award (2000) in recognition of his innovative work as a composer. Roger Doyle is a member of Aosdána, Ireland's state-sponsored academy of creative artists.
Streaming/downloads from https://rogerdoyle1.bandcamp.com
Contemporary Music Centre, Ireland