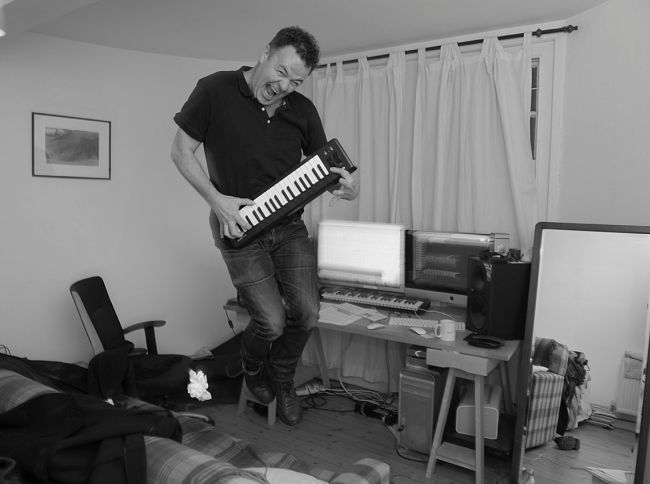 There is nothing finer, more exhilarating, more relentlessly exciting than putting on your musical space suit, leaping headlong into the Indiana Jones hyper ship and exploring the deeper infinity of the odd shaped legoland we call music. Finding stories, making shapes, expressing desires, swimming in the great magnificent sea of surreality...Come on in, the water's lovely!!"Some of the most exhilarating and imaginative music you'll ever hope to hear - musical play in the highest sense: exuberant, spontaneous and irresistibly alive." Washington Post
Brian Irvine was born in Belfast. His huge body of work reflects an obsessive love of music creation in all its forms and includes operas, orchestral works, large-scale community oratorios, film scores, installations, dance works as well as ensemble, solo, and chamber pieces.
His music has been performed and commissioned by many international artists and organisations including: Welsh National Opera, Scottish Chamber Orchestra, Scottish Ballet, Wexford Festival Opera, Joanna MacGregor, Northern Sinfonia, RTÉ National Symphony Orchestra, Northern Ireland Opera, BBC Radio 3, Homecoming Festival (Russia), Channel Four, Red Note Ensemble, Valle d'Aosta Symphony Orchestra (Italy), Fox Valley Symphony Orchestra of Chicago, 4-mality Percussion Ensemble, BBC Concert Orchestra, Ulster Orchestra, Irish Chamber Orchestra, National Youth Orchestra of Great Britain and London 2012 Olympics Festival.
Much of his output has involved close collaborations with artists from a diverse range of disciplines including: Seamus Heaney (poet), Cy Twombly (artist), Eduard Bersudsky (sculptor), John McIllduff (filmmaker/director), Joanna MacGregor (piano), Jari Nemenin (filmmaker/director), Joel Simon (filmmaker/animator), Alexander Kobin (piano), Matthew Robbins (animator/artist), LAU (BBC Folk Award Winners), Matthew Bourne (piano), Ivor Cutler (poet, singer), David Holmes (producer/composer/DJ), Keiji Haino (el. guitar), Paul Dunmall (saxophone/reeds/bagpipes), Isabelle O'Connell (piano), Roman Mints (violin) and Keith Tippett (piano).
He was the Associate Composer with the Ulster Orchestra (2007-2011) and is currently Professor of Creative Arts at the University of Ulster.
Together with his own ensemble (BBC Radio 3 Music Award winners) he has toured extensively throughout USA, Russia, France, Portugal, Germany, Scotland, Malta, Cyrus, Poland, Scotland, Ireland, England, Belgium, and the Netherlands appearing at some of the world's leading international music festivals/venues. These have included several appearances at the Bath International Music Festival, Queen Elizabeth Hall, South Bank, Gulbenkian Institute (Portugal), Washington National Library of Congress, Ouest Nord Ouest Festival, (France), Glasgow/Edinburgh International Festivals, Ko ció w. Jana, Gda sk (Poland), Festival d'été de Valence (France), Festival Sous les Pommiers (France), Homecoming Festival (Russia), New Music Dublin Festival, Moving on Music Festival, Sonorities Festival of New Music and The International House of Music (Russia).
He has won a number of awards for his work including a British Composers Award for Opera, BBC Radio 3 Jazz Award, MCPS Joyce Dixey Award for Composition, Major Individual Artist Award (Arts Council of Northern Ireland) and 2011 Irish Allianz Arts and Business Award for "best use of creativity in the community". In 2011 his animated children's oratorio 'Rain Falling Up' was shortlisted for a British Composers Award and 'Postcards from Dumbworld' was nominated for best new opera at the 2010 Irish Theatre awards. .
Recent orchestral works include: 'Strange Attractors' for orchestra and LAU commissioned by the Northern Sinfonia/Sage Gateshead and a collaboration with poet Seamus Heaney 'Praise Aloud the Trees' (25') for double orchestra and choir commissioned by BBC Radio 3.
In May 2012 his opera 'May Contain Flash Photography' commissioned by Northern Ireland Opera (libretto by Owen McCafferty) was premiered at the MAC and in August of that year he premiered 'NEST' with artist/filmmaker John McIllduff. This massive visual/sonic installation involved over 3500 people and was written for orchestra, large community chorus, soloists, children's choir, 3000 objects and a series of individual bands and artists. It ran for nine days.
He is currently working on a piece for orchestras and violin for violinist Darragh Morgan and RTÉ National Symphony Orchestra and an animated film opera entitled 'Peter Lilly and the Nose'. Brian is rubbish at DIY but excellent at making pancakes!
Contemporary Music Centre, Ireland