Andrew Hamilton and Brian Irvine win awards at the 2017 British Composer Awards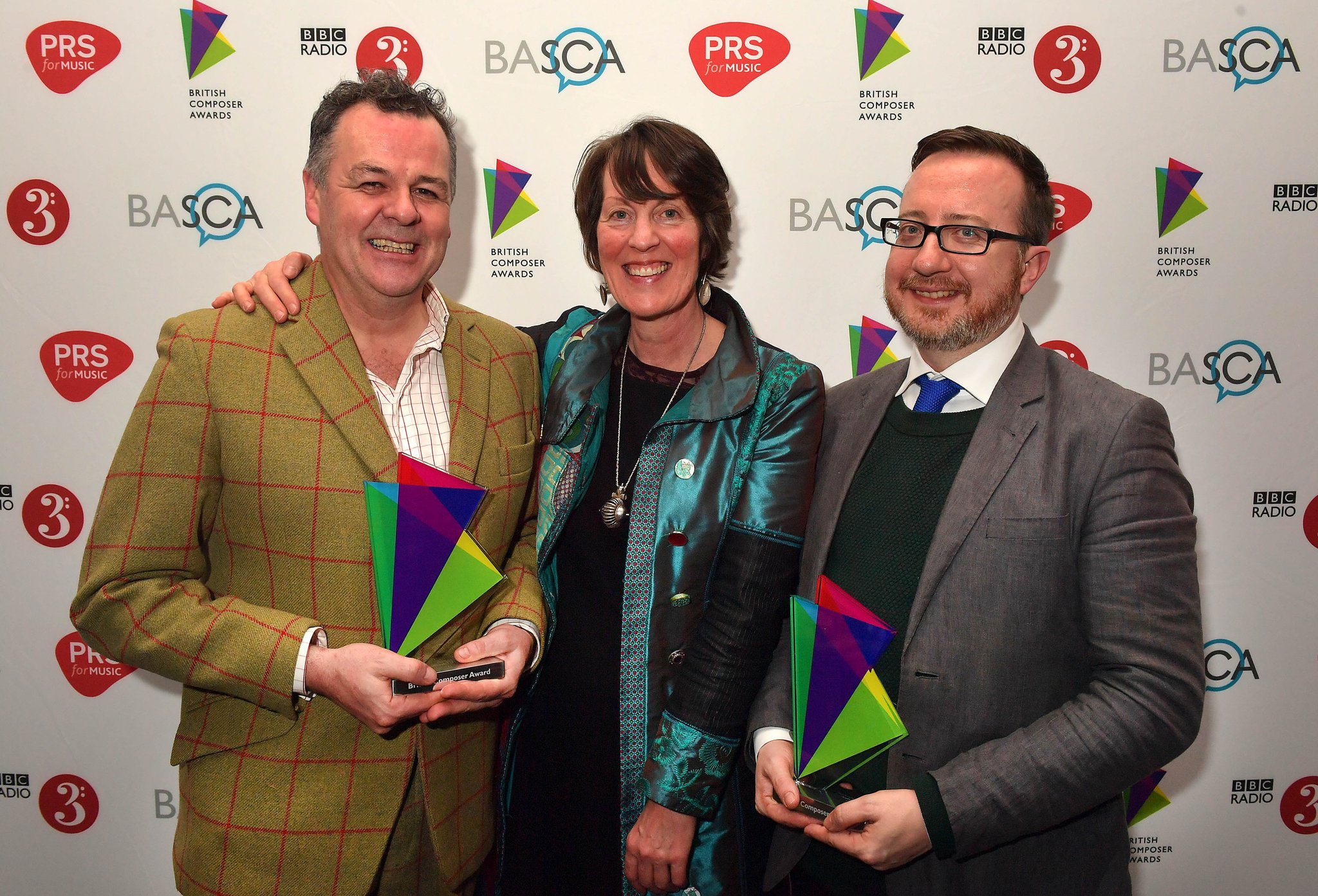 Brian Irvine, Linda O'Shea Farren (CMC), and Andrew Hamilton at the BASCA Awards (photo Mark Allan)
Irish composers Brian Irvine and Andrew Hamilton were each presented with an award at the 2017 British Composer Awards at the British Museum in London on Wednesday (6 December 2017).
Presented by the British Academy of Songwriters, Composers and Authors (BASCA) and sponsored by PRS for Music, the awards honoured the best contemporary compositions that premiered in the UK in the year leading up to 31 March 2017.
Brian Irvine took home his second British Composer Award for Anything but Bland in the 'Community or Educational Project' category. Anything but Bland is for orchestra, female chorus, soloists, video projection and narrator with a libretto by John McIlduff.
This work takes its inspiration from Lilian Bland, the Carnmoney-based innovator who, in 1910, became the first woman in the world to design, build and fly her own plane. Commissioned by Northern Ireland Science Festival and Dumbworld, it was premiered on 15 February 2017 by the Ulster Orchestra, and featured soloists, a specially assembled female community choir of all ages including Dumbworld choir, OpenArts Community Choir, Codetta and St. Kieran's Girls' Choir, together with narrator Aoife Duffin.
Andrew Hamilton was awarded a British Composer Award for Proclamation of the Republic in the 'Choral' category. Proclamation of the Republic (2016) was commissioned by EXAUDI with funding from Arts Council Ireland.
The UK premiere of this work was performed by EXAUDI, directed by James Weeks, at LSO St. Luke's, London on 23 October 2016. This choral work is based on the text of the 1916 Proclamation of the Republic issued by the Irish Volunteers and Irish Citizen Army during the Easter Rising, as read out by Pádraig Pearse.
Working with Exaudi and their conductor James Weeks (with funds provided by the Arts Council of Ireland) was a wonderful and challenging opportunity, so this acknowledgement of that rewarding process means a great deal.
- Award-winning Composer Andrew Hamilton
The Contemporary Music Centre was delighted to attend the awards in support of composers from Ireland. Both Andrew Hamilton and Brian Irvine are registered composers with the Contemporary Music Centre, and are now based in the UK.
A programme dedicated to the British Composer Awards will be broadcast on BBC Radio 3 from 7.30pm on Sunday, 10 December 2017.