Piano Album III
CMC's online shop has Digital Scores, Printed Scores, Books, & CDs all available to purchase online. The works contained within our Choral Music Catalogues are available to purchase online by licensed download.
"Please be aware that due to the ongoing Covid-19 situation we are currently not fulfilling physical online orders, a digital version will be provided if available and you will receive a discount and a refund of P&P"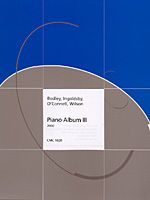 This album is the third collection of works specially commissioned as test pieces by the 2000 AXA Dublin International Piano Competition with funds provided by the Arts Council/An Chomhairle Ealaíon. Each work takes a very different approach. Seóirse Bodley's Chiaroscuro was inspired by the Caravaggio painting, The Taking of Christ (1602), in the National Gallery of Ireland. Kevin O'Connell's Étude 2000 is a test piece in the truest sense, making considerable demands on the player's rhythmic competence. James Wilson's lyrical composition, Tree and Moon, exploits the lower register of the piano, while Marian Ingoldsby's Red Shoes assembles twelve-note combinations into a flowing and graceful structure.
Contemporary Music Centre Editions
Contemporary Music Centre