By the new time
CMC's online shop has Digital Scores, Printed" Scores, Books, & CD's all available to purchase online. The works contained within our Choral Music Catalogues are available to purchase online by licensed download.
"Please be aware that due to the ongoing Covid 19 situation we are currently not fulfilling physical orders, a digital version will be provided at a discounted cost. Please apply coupon code covid19 at the checkout"
Seachanges and RIAM Piano Syllabus pieces are still available to purchase online as a physical product. The price has been adjusted to include P&P.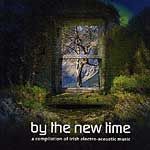 By the new time is a compilation of Irish electro-acoustic music. It contains the work of several composers, some of which are former students of Trinity College Dublin's Music and Media Technology Courses. Among the composers featured are Roger Doyle, Donnacha Dennehy, Michael Alcorn, Jürgen Simpson and Judith Ring. The disc also presents works from a number of up-and-coming composers including Conor Curran, Caoimhe Dunn, Patrick Daly, Giles Packham, J. Bassetti and Roy Carroll.