Contemporary Music from Ireland, Volume Nine
CMC's online shop has Digital Scores, Printed" Scores, Books, & CD's all available to purchase online. The works contained within our Choral Music Catalogues are available to purchase online by licensed download.
"Please be aware that due to the ongoing Covid 19 situation we are currently not fulfilling physical score orders, a digital version will be provided at a discounted cost. Please apply coupon code covid19 at the checkout"(for physical score orders only)
Seachanges and RIAM Piano Syllabus pieces are still available to purchase online as a physical product. The price has been adjusted to include P&P.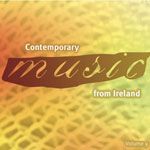 Volume Nine in a series of promotional CDs issued without charge by the Contemporary Music Centre to showcase the diverse range of work of Irish composers. The CD was produced with the assistance of funding from Culture Ireland, the Arts Council Music Recording Scheme 2009 and the Arts Council of Northern Ireland.