Chatham Saxophone Quartet: New Irish Music
CMC's online shop has Digital Scores, Printed Scores, Books, & CDs all available to purchase online. The works contained within our Choral Music Catalogues are available to purchase online by licensed download.
"Please be aware that due to the ongoing Covid-19 situation we are currently not fulfilling physical online orders, a digital version will be provided if available and you will receive a discount and a refund of P&P"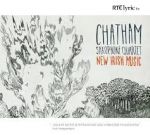 The first album by the award-winning ensemble Chatham Saxophone Quartet features music by Irish composers including Brian Byrne, Ian Wilson, Brian Irvine, Jonathan Nangle and Kenneth Edge.
Artists
Chatham Saxophone Quartet, Aimee Farrell Courtney (bodh).
Artists
Chatham Saxophone Quartet.