All the ends of the earth
CMC's online shop has Digital Scores, Printed Scores, Books, & CDs all available to purchase online. The works contained within our Choral Music Catalogues are available to purchase online by licensed download.
"Please be aware that due to the ongoing Covid-19 situation we are currently not fulfilling physical online orders, a digital version will be provided if available and you will receive a discount and a refund of P&P"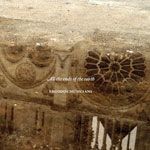 This latest release on the Ergodos label features music by Garrett Sholdice, Benedict Schlepper-Connolly and Linda Buckley inspired by Christmas music by Léonin, performed by Ergodos Musicians.