Cross Currents: Stories of Contemporary Irish Composition
Wed 14 Sep 2016
Cross Currents is a three-part music documentary series exploring contemporary Irish composers and their work. Produced by Athena Media in association with CMC, the first episode was broadcast on RTÉ lyric fm at 7pm on Friday 9 September 2016, and explored the generation of Irish composers who emerged in the 1970s.
In advance of a concert on the 16 September featuring the music of some of these composers as part of the Composing the Island festival, CMC's Stephanie Ford takes a look at the stories behind their most well known compositions, as explored in the first episode of the series.  
Raymond Deane -

Embers

(1973)
Embers was composed while Raymond Deane was still at college, before he moved to Berlin to study composition in the late 1970s, initially with Mauricio Kagel and subsequently with Karlheinz Stockhausen. It was an influential work for him on a personal level, one which helped solidify his compositional style:
I wrote the piece and I didn't think much of it actually at the time. It took me years to appreciate just what I had done in that piece, and I still consider it, 45 years later, as one of the best pieces I've ever written.   

That seems to me now a piece that embodies in a nutshell just about every single element that I've expanded upon in later works. Embers is largely static, in that musical elements are juxtaposed and there are long silences. But at a certain point in the piece these elements begin to rub together, they begin to generate friction, and the entire musical argument briefly changes, it becomes a different piece. There is actually a climax, and climaxes are forbidden in most contemporary music. Then, once that point has been reached in the piece it subsides, and the end of the piece is a kind of dismantling of the entire musical argument.   

That particular way of putting things together has remained characteristic of everything that I've done since.
Gerald Barry - From The Intelligence Park (1986)
From The Intelligence Park is based on the opera of the same name with a libretto by Vincent Deane. Considered as one of the most innovative pieces of contemporary opera coming from Ireland, the work was Barry's first foray into the world of opera, and features random images of eighteenth-century Irish society, most notably inspired by the collection of watercolour estate maps in the National Library of Ireland.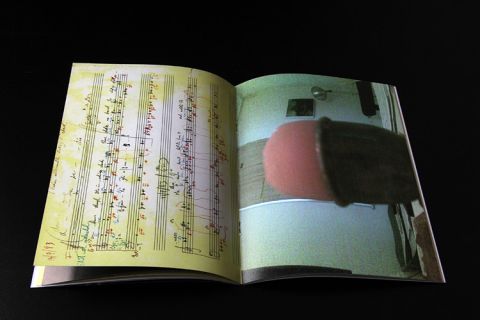 Photo credit: Peter Maybury 
The opera was described by the London Times as, "a kind of hip plainchant intoned by twelve raucous strings and winds ... like a factory machine whose gears have slipped askew and that no one knows how to shut off ."
Since composing this opera, Gerald Barry has become internationally acclaimed for his opera compositions. 
Seóirse Bodley - A Small White Cloud Drifts Over Ireland (1975)
This one-movement orchestral work makes extensive use of traditional Irish music idioms and contrasting material fitted into an irregular, rather than regular, musical form. It represented a distinct period of new compositional development for Bodley. The title of this work is suggestive and evocative - as if the spirit of the people and the land were viewed from the vantage point of a small white cloud drifting over Ireland. The composer speaks about the the musical approach which influenced this period of his career in the first episode of Cross Currents:  
What I did was, I composed a melody which was based on Irish music, and surrounded it with sharply dissonant things going on. That was sort of the key point at which I unlocked myself to an extent out of the avant-garde of that time.

Then I started to work in various works with this thing where you had two levels of music going on- the avant garde on the one hand and the Irish music going on on the other, and the two hitting off each other, and that producing a third effect.  
Roger Doyle - Obstinato (1970)
Irish electro-acoustic pioneer Roger Doyle's Four Sketches for orchestra was written in 1969, and also features in the Composing the Island concert. Just one year later he composed his first tape piece, Obstinato. He explains the interesting compositional approach he took in the piece:
I made a loop and stuck two bits of tape together and connected it to the radio, a channel at a time. On the right channel I got a bit of a radio play from Radio 4, and on the left channel I got a bit of a concert from Radio 3. I recorded them separately on this loop... I played the two of them back together, and you wouldn't believe this piece came out and the two things fitted beautifully. It looks as though my brain was tuned to pay attention to sound from the word go. If they opened up my head they'd just find a big music system I think!
The next episode of Cross Currents airs on Friday 16 September 2016 on RTÉ lyric fm.