Choral Sketches Workshop - video and report
Wed 8 Mar 2017
In February, composers Amanda Feery, Michael Gallen and Seán Doherty participated in a choral writing workshop led by Tarik O'Regan with Chamber Choir Ireland. They review their involvement in the project here.
Words: Stephanie Ford
Video: James Keating
This year,
Chamber Choir Ireland
and the Contemporary Music Centre partnered to present
Choral Sketches
, a unique professional development opportunity for composers wishing to develop their skills in writing choral music. In a highly competitive process, composers Amanda Feery, Michael Gallen and Seán Doherty were selected to participate in the project, receiving mentoring from renowned composer Tarik O'Regan to develop a series of compositional sketches for a new choral work. These sketches were the focus of a public workshop led by Tarik O'Regan with Chamber Choir Ireland and Artistic Director, Paul Hillier on 24 February 2017 at the Royal Irish Academy of Music in Dublin. 
As the event formed part of a larger touring programme by Chamber Choir Ireland and the Irish Chamber Orchestra for
A Letter of Rights
by Tarik O'Regan and librettist Alice Goodman, the workshop opened with an insightful interview with Alice, conducted by Irish Times critic Michael Dervan.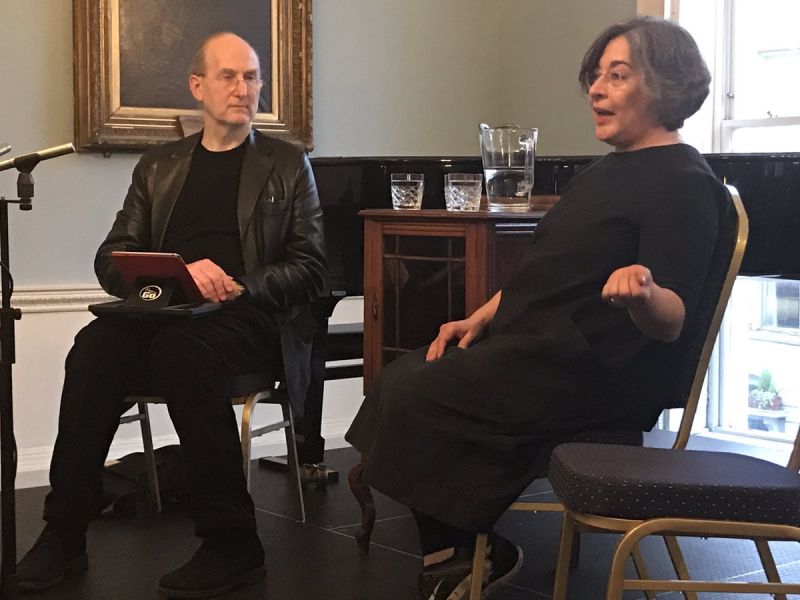 Michael Dervan and Alice Goodman
The second part of the evening saw composers Seán Doherty, Amanda Feery and Michael Gallen workshop their choral sketches with Tarik O'Regan, Paul Hillier and Chamber Choir Ireland, with lively artistic exchanges taking place between composers, choir members, artistic director and members of the audience. 
Seán Doherty's Snow Dance for the Dead saw Chamber Choir Ireland members experiment with various rhythmic patterns. Amanda Feery's choral sketch took inspiration from the shipping forecast in its sonic textures, while Michael Gallen's Mumurations sought to musically evoke the abstract flight patterns of starlings.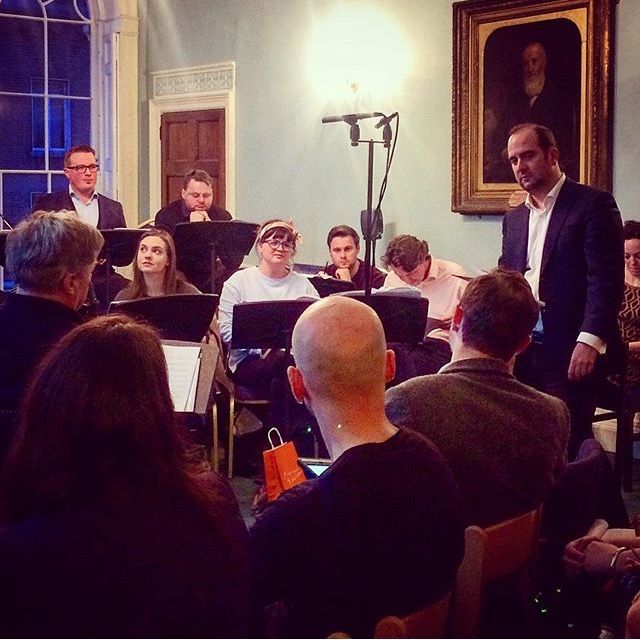 Tarik O'Regan and Paul Hillier advising composer Seán Doherty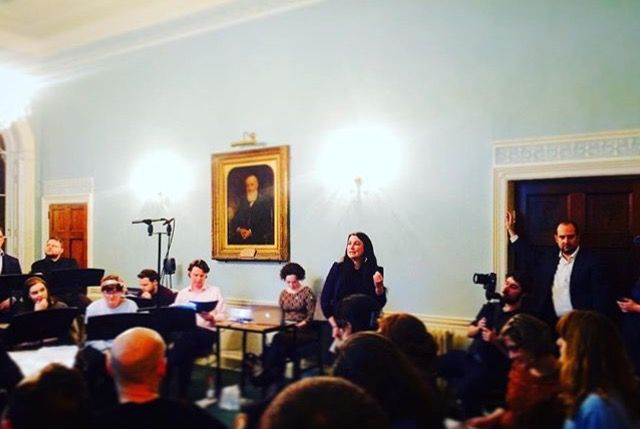 Composer Amanda Feery workshops her choral sketch
CMC was delighted with the feedback from both composers and audience members on the Choral Sketches project and on the sold out public workshop. 
Speaking about the project, each composer explained the benefits of being involved in a professional development programme:
I benefitted immensely from Tarik O'Regan's insightful mentorship, as he encouraged me to explore the special opportunities available when writing for a professional choir, such as Chamber Choir Ireland. At the workshop, I received valuable feedback about my work, regarding both its rehearsal and performance, from Tarik, Paul Hillier, the choir and  members of the public. The opportunity to write for a professional performing ensemble under the guidance of an acknowledged choral expert was extremely beneficial to my professional development as a composer.
Seán Doherty
I'm still buzzing from the Choral Sketches workshop! It's fuelled my motivation and imagination to continue with larger plans for my piece. It was incredibly helpful to examine the same musical material from different sides of the looking-glass, with invaluable contributions from Tarik O'Regan, Paul Hillier, and members of Chamber Choir Ireland.
Amanda Feery
I think that the most valuable aspect of the "Choral Sketches" project was how it encouraged the composers to take risks. It's so often the case that limited rehearsal time requires you to fall back on tried-and-tested musical ideas in order to ensure a fluid performance. I took "Choral Sketches" as an opportunity to try out ideas that live at the limits of my musical imagination: some worked and others didn't! It was a genuine learning experience, and I feel like I have a much more subtle sense of my musical palette having had an opportunity to test and refine those ideas. Tarik, Paul and the choir made sure that the atmosphere in the room was loose and open; I had the sense that everyone present somehow had a vested interest in each of our pieces finding their truest voice.
Michael Gallen
CMC would like thank its partners in this project, Chamber Choir Ireland, as well as Tarik O'Regan, Paul Hillier, Alice Goodman, Michael Dervan and the Royal Academy of Music for  bringing this project to fruition. We would also like to thank Seán, Amanda and Michael for presenting an exceptionally high standard of contemporary choral music at the workshop and for the time, effort and dedication they invested in the process. A special mention also to Galway-based composer
Alyson Barber
, who was given a special recommendation by Tarik O'Regan for mentoring in this project.
The future of Ireland's contemporary music is secure if the serious talents of Amanda Feery, Séan Doherty, and Michael Gallen are to go by! pic.twitter.com/JySbY30ueG

— Tarik O'Regan (@tarikoregan) February 25, 2017