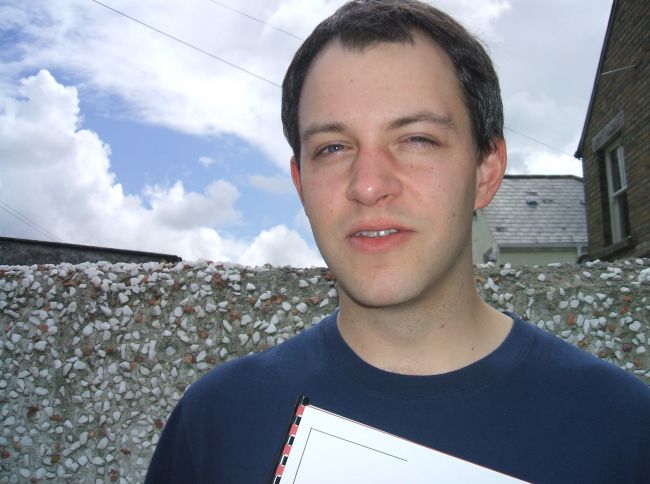 "I'm drawn to paradox, understatement...moments of intense lyricism appearing in unlikely contexts, structures in which the focal points are where the material is reduced to its most bare and formulaic."
David Bremner is the composer of a diverse range of innovative works which have been performed frequently in Ireland and abroad. Originally from West Cumbria, UK, he moved to Ireland in 1999. In 2013 he completed a Ph.D in Composition at DIT Conservatory of Music and Drama under the supervision of Gráinne Mulvey. His compositions share a focus on the concept of line. This concept is explored in a range of diverse instrumentations (orchestra, choral, solo instrument/voice, chamber ensemble, electronics) and diverse compositional methods (fully-notated scores, graphic scores, devised improvised schemes). Another constant is an interest in mathematical structures and how they can be used to create interesting musical forms.
He has previously studied with Karl Stirner, and has attended masterclasses with Michael Finnissy, Christopher Fox and Bogus aw Schaeffer. He has attended the Irish Composition Summer School three times, and in 2007 was one of seven young composers invited to Seefeld in the Austrian Tirol to participate in the festival avantgarde tirol. In 2011 he was invited to take part in Ostrava New Music Days on a fellowship. He has had works performed by, amongst others, Ensemble ICC, Paul Roe, Elizabeth Hilliard, Quasars Ensemble and avantgarde tirol, and has featured in festivals such as Béal Festival, Ostrava New Music Days 2011, Hilltown Festival, CNMC York, and avantgarde tirol. He is a member of the Irish Composers' Collective. He is the co-director of the music/text production company Béal, who have mounted two successful festivals featuring new Irish and international work. He also founded the innovative music/theatre collective TheOpenRehearsals, who regularly perform around Dublin.
As a performer he is Assistant Organist at Christ Church Cathedral Dublin, and has played with ensembles such as the RTÉ National Symphony Orchestra, Crash Ensemble, and Opera Theatre Company. With Elizabeth Hilliard he performs as a soprano+piano duo, who have premiered over thirty new works.
In 2012 he received an Arts Council Bursary award in order to further develop the work of TheOpenRehearsals, and to compose a new work for banjo and live electronics. Current projects include a collection of new works for uilleann pipes and pipe organ, a work for Clarion Trio, and a song-cycle setting poems by leading Irish experimental poet Billy Mills. Loop Walks, a work of scored poetry (produced in collaboration with Mills) was published in 2013 by hardPressed Poetry.
Contemporary Music Centre, Ireland