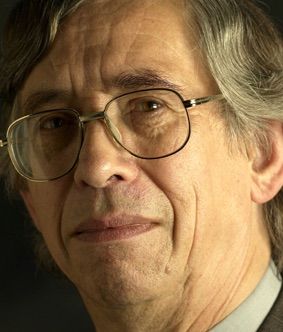 My music is approachable. I make great use of sonority and have been much influenced by plainchant. I value the spiritual element in music and have a healthy contempt for musical fashion. I "do my own thing".
Born in 1936, Colin Mawby is widely known as a choral conductor and composer. As a conductor, he has worked with the London Mozart Players, the Wren Orchestra, Pro Cantione Antiqua, the Belgian Radio Choir and the BBC Singers. He has been Master of Music at Westminster Cathedral, London, Choral Director at Radio Telefís Éireann (RTÉ) and artistic director of Ireland's National Chamber Choir. During his time as Choral Director at RTÉ he was instrumental in the formulation and development of the new choral policy that led to the establishment of the National Chamber Choir, RTÉ Philharmonic Choir and RTÉ Cór na nÓg. On his retirement from the National Chamber Choir in 2001 he was appointed Artistic Director Emeritus to the choir.
As a composer, his extensive output includes over fifty masses, five song cycles, a large number of settings for choir and two children's operas. He has received commissions from RTE, Westminster Cathedral, Liverpool Cathedral, the Royal School of Church Music, the Cathedral of the Madeleine, Salt Lake City, and Grace Church, New York, USA. He has also received many commissions from German churches. Recent works include a piece written especially for the Requiem of Cardinal Basil Hume and a fanfare for the opening of the Concert Hall in Dublin City University. Awards include Top Honors in the 2002 Waging Peace Through Singing competition in Oregan, USA for his Prayer of Forgiveness. In 2004, he was awarded the Knighthood of St. Gregory by Pope Benedict XVI.
His music is published by Kevin Mayhew, Oregon Catholic Press, Carus-Verlag, the Gregorian Institute of America, the Royal School of Church Music, Edizioni Carrara, Dr J Butz and Edition Ferrimontana. CDs of his music have been released on the Oregon Catholic Press, Warner Classics, Teldec, Hyperion, Black Box, EMI and Kevin Mayhew labels. Three recent CDs were produced by Quertstand, 'Singt, ihr Engelchoere!' and 'Tod, wo ist dein Sieg?' and 'Cantate Domino'. His setting of Psalm 23 was included on Charlotte Church's CD, Voice of an Angel and Ave Maria was recorded on the Celtic Tenor's CD, So Strong.
Contemporary Music Centre, Ireland