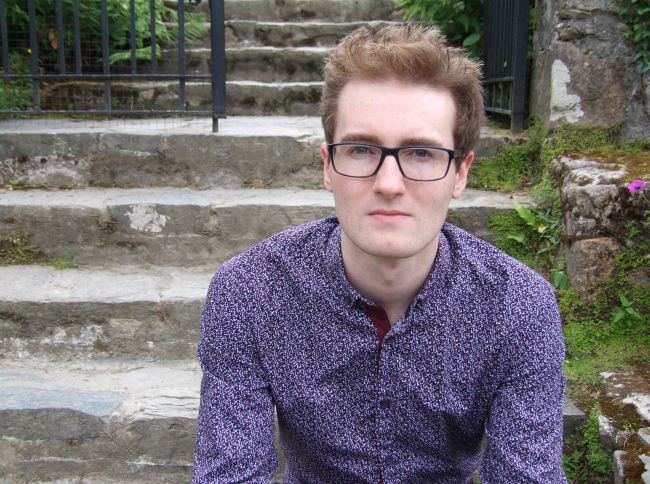 Anselm McDonnell is a third-year PhD composition student studying under Professor Piers Hellawell at QUB. His instrumental and choral works often integrate extended techniques and theatrical elements such as vocalisation or stage directions alongside more conventional writing to increase the dramatic impact of the work. His work has been performed in the Czech Republic, Japan, Russia, France, North America (New York) and various locations around the UK and Ireland. For 2019 he has been commissioned by the Crash Ensemble to write a large chamber work for the New Music Dublin Festival.
Anselm has worked with ensembles such as the BBC Singers, BBC National Orchestra of Wales, Ulster Orchestra, Ligeti Quartet, St. Salvator's Chapel Choir, Hard Rain Soloist Ensemble, The Assembly Project, Grosvenor Chorale, Ficino Ensemble, Rosetta Contemporary Music Ensemble (Japan) and Gallery of Actual Music Ensemble (Russia). He has also worked collaboratively with individual performers: guitarist Chris Roberts (who commissioned a substantial new work for guitar that will be released on Chris' debut album in 2019), Andrew Budden from Psappha, Laura Sinnerton from the BBC NOW and pianist Isabelle O'Connoll. Competitively, Anselm was a finalist in the Peter Rosser Composition Award run by the HRSE (twice, in 2015 and 2018) and received 1st prize in the Feis Ceoil Choral Composition Competition 2017 and the Chamber Ensemble Competition 2018. In July 2018 a collection of his choral works was awarded first prize in the 3rd International Kastalsky Choral Writing Competition, with the possibility of a performance in Moscow. His first recorded choral piece, Hinneni was commercially released by the St. Salvatore's Chapel Choir on a CD celebrating the music of Sir James MacMillan, Annunciations. Hinneni was performed by the choir on tour in venues in Paris, London and Edinburgh. The CD is available from Presto Classical.
2018 saw several international performances: in May the Russian premiere of a chamber trio that was selected for the final of the 3rd International Sergei Slonimsky Competition in St. Petersburg. In August 2018, two of the movements from Anselm's suite for guitar Eyewitnesses of His Majesty received their East Asian premiere in Kyoto, Japan. Choral works also formed a major part of Anselm's musical activity this year. In November, a new commission for Belfast based choir Cantiunculae was performed as the centrepiece for a concert commemorating the centenary of World War 1, and in December the C4 choir performed A Slave in the Land of Liberty in Manhattan, a world premiere and Anselm's first American performance. Anselm has also been commissioned by the Rhinegold publication Choir & Organ to write a new work, Asphyxiate, for Easter 2019, which will be printed in the magazine and available to choirs internationally.
Anselm is one of the founding members of PANIC Music Ensemble, a new composer/performers collective based in Northern Ireland, aimed at performing new works by emerging composers in the Belfast area.