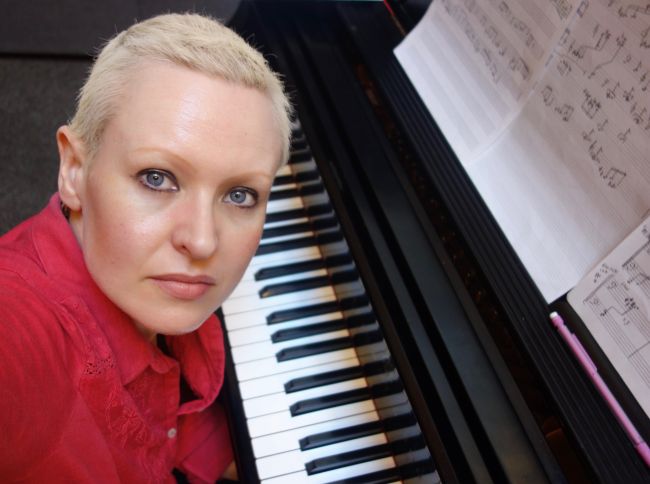 "The first thing I will do is... Begin. Open the mind-vault.Reveal. Delve." (Ailís Ní Ríain, from FALLING)
Ailís Ní Ríain creates work which challenges, provokes and engages. Her work has been performed across Europe, in Israel, Japan, Brazil and the United States alongside broadcasts on BBC and RTE radio and WNYC.
In addition to a considerable body of concert music, her work incorporates a wide variety of interests and ideas including a large-scale, year-long installation for a Castle; a suite of hotel-room based mini-operas, a music-theatre piece combining sign-language interpretation, animation, poetry and live music, a site-specific music and text installation for a shop unit, a collaborative installation for the Liverpool Biennial and a music installation for the home of the Brontë sisters.
Ní Ríain's Debut Disc portrait album will be released by NMC Recordings in the UK in late 2022. Current commissions include new work for the RTE Concert Orchestra, London Sinfonietta, Evelyn Glennie and the New London Chamber Ensemble, the Mornington Singers, Con Tempo String Quartet, the Royal Liverpool Orchestra, Unlimited and the Royal Academy of Music.
She has been awarded several international fellowships including Yaddo Artist Colony, USA, Bogliasco in Italy, Ragdale in Illinois, ACA in Florida, the Virginia Center for the Creative Arts and MusicOMI, New York State. In 2017 she was awarded the Contemporary Music Centre/Irish Cultural Centre Paris Composer Residency.
Ní Ríain has been awarded the prestigious Paul Hamlyn Foundation Award for Artists, the largest single artist award in Europe. In 2021 she was elected as a Senator to the Ivors Academy and became a board member of Disability Arts Online.
Ní Ríain has a sensory disability and is an advocate for diversity and inclusion in the arts and has worked with Arts & Disability Ireland, Unlimited, DaDafest, Sound and Music and as an Ivors Academy Equality Diversity and Inclusion Committee Member. She has been making work referencing disability since 2007.
To see recent performances visit: https://www.ailis.info/performances
To view new typeset scores [2022] please email: scores@ailis.info
Ailís Ní Ríain is also a published playwright. She is published by Methuen Drama (Bloomsbury), Nick Hern Books and L'arche [in French translation]
Contemporary Music Centre, Ireland