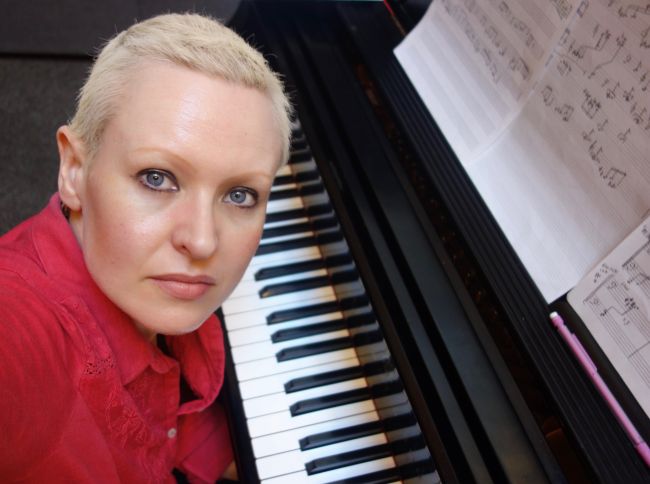 "The first thing I will do is... Begin. Open the mind-vault.Reveal. Delve." (Ailís Ní Ríain, from FALLING)
Born in Cork, Ailís Ní Ríain is a graduate of University College Cork, the University of York, the University of Manchester and the Royal Northern College of Music, Manchester, where she became the first Junior Fellow in Education. She has attended composition masterclasses, workshops and residencies throughout Europe. In 2016 Ní Ríain was awarded the prestigious 50K Paul Hamlyn Foundation Award for Artists.
As a composer, she is interested in producing works which challenge, provoke and engage. She is particularly interested in cross-discipline collaboration, music in the public realm, music-theatre, sound installation and presenting contemporary music in diverse spaces. Projects include a wide variety of interests and ideas including a large-scale, year-long installation for a Castle; a suite of hotel-room based mini-operas, a music-theatre piece combining sign-language interpretation, animation, poetry and live music, a site-specific music and text installation for a shopping centre unit, a collaborative installation for the Liverpool Biennial 2010, a music installation for the home of the Brontë sisters and a commission for the RLPO's Ensemble 10/10 with Lori Lixenberg.
In 2018 'Soundless' was shortlisted by the Association of Irish Composers to represent Ireland at the World Music Days 2019 in Tallin, Estonia. In 2018 she was a finalist in the Annelie de Mann Prize, Amsterdam and in 2017 a finalist in the Irish Selection for ISCM New Music Days in Beijing, China. In 2019 She was awarded a fellowship to attend Yaddo Artist Colony in the USA. In 2018 she was a Fellow at The Virginia Center for the Creative Arts in USA. In 2017 she was awarded a Fellowship and invited to participate in MusicOMI, New York State to focus on improvisation.
In 2017 she was awarded the Contemporary Music Centre/Irish Cultural Centre Paris Composer Residency. In 2016 Ailís was selected as an Associate Artist at the Atlantic Center for the Arts in Florida, USA. In 2016 Sklonište was performed at Huddersfield Contemporary Music Festival. Sklonište is inspired by the Siege of Sarajevo and has toured the UK, Dublin, Derry, Cork, London, Bosnia and Paris.
To see recent performances visit: https://www.ailis.info/performances
Ailís Ní Ríain is also a published playwright published by Methuen Drama (Bloomsbury).
Contemporary Music Centre, Ireland