Under the Green Time
Please be aware that due to the ongoing COVID-19 pandemic and the current restrictions on movement, we are unable to fulfil physical orders. We are endeavouring to fulfil score orders digitally and have made available to you a discount coupon "covid19" which you can apply to your order at checkout. Please note that digital scores are subject to availability, please contact kfennell@cmc.ie if you have any queries regarding your order.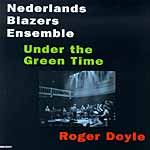 Roger Doyle's Under the Green Time: 'An image of Ireland without the sweet Celtic wrapping, an ancient, hard Ireland, a kind of musical archaeology.' This programme of acoustic, electro-acoustic and traditional music was recorded live in The Hague in 1999 by the Netherlands Wind Ensemble with Brian Ó hUiginn (uilleann pipes), Sarah Grealish (vocals) and Roger Doyle (electronics).