The Thousand Year Old Boy
CMC's online shop has Digital Scores, Printed" Scores, Books, & CD's all available to purchase online. The works contained within our Choral Music Catalogues are available to purchase online by licensed download.
"Please be aware that due to the ongoing Covid 19 situation we are currently not fulfilling physical orders, a digital version will be provided at a discounted cost. Please apply coupon code covid19 at the checkout"
Seachanges and RIAM Piano Syllabus pieces are still available to purchase online as a physical product. The price has been adjusted to include P&P.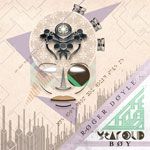 This new release from Roger Doyle is explained as 'Explorations in imagined world musics - past, present and future.' It includes the composer on software instruments and production, Nick Roth on Turkish Mey and soprano saxophone and vocalists Olesya Zdorovetska, Ahmad Alkaran and Gavin Jones.