Seachanges
CMC's online shop has Digital Scores, Printed" Scores, Books, & CD's all available to purchase online. The works contained within our Choral Music Catalogues are available to purchase online by licensed download.
"Please be aware that due to the ongoing Covid 19 situation we are currently not fulfilling physical orders, a digital version will be provided at a discounted cost. Please apply coupon code covid19 at the checkout"
Seachanges and RIAM Piano Syllabus pieces are still available to purchase online as a physical product. The price has been adjusted to include P&P.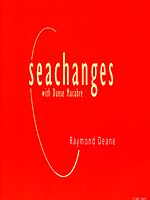 Raymond Deane's Seachanges (with Danse Macabre) is the first work in his Macabre Trilogy. Together with Catacombs (1994) and Marche Oubliée (1996), the three pieces deal lightheartedly with the theme of death. Seachanges has been selected as a set work for the school Leaving Certificate music examination in Ireland. The composer writes: 'This piece is based on a short melody that came while walking on the beach at Ardtrasna, County Sligo, and that returned to haunt me a year later on a very different beach at Huatulco, on the Pacific coast of Mexico. The piece is informed throughout by this extreme contrast, and by my reactions to the grotesque and gaudy morbidity characteristic of Mexican iconography. The word 'seachanges' was suggested both by the Atlantic/Pacific aspect, and by Shakespeare's Full fathom five my father lies…, thus linking up with the theme of death. The use of marimba and strummed stringed instruments evokes the Mexican 'mariachi' band.' Commissioned by Concorde with funds provided by The School of Irish Studies and The Arts Council/An Chomhairle Ealaíon.
Contemporary Music Centre Editions
Contemporary Music Centre