Reflections
CMC's online store has Digital Scores, Printed" Scores, Books, & CD's all available to purchase online. The works contained within our Choral Music Catalogues are available to purchase online by licensed download.
Owing to Covid19, we are not fulfilling physcial orders of Scores, a digital copy will be provided where available. Please use coupon code covid19 for scores which will be received in digital format. 
Copies of Seachanges and the RIAM curriculum pieces are available in physical format.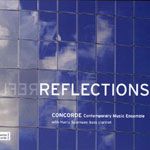 Reflections is the latest offering from Irish-based contemporary music ensemble, Concorde. This enhanced content CD features works by Irish composers, Stephen Gardner, Jane O'Leary and Judith Ring alongside works by Korean, Si-Hyun Yi and Mexican, Alejandro Castanos. All works were commissioned by Concorde and represent a range of colourful styles and influences.