Piers Hellawell: Airs, Waters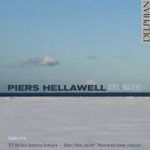 Piers Hellawell makes his debut on Delphian Records with a diverse programme of premiere recordings. With sources of inspiration ranging from the self-immolation of Jan Palac to the lost Etruscan language and the sculptures of abstract expressionist David Smith, the full breadth and depth of Hellawell's compositional preoccupations are represented in authoritative performances by some of his closest collaborators.
Now available to preorder in advance of release on 21st May.