Piano and Choral Pieces
CMC's online shop has Digital Scores, Printed" Scores, Books, & CD's all available to purchase online. The works contained within our Choral Music Catalogues are available to purchase online by licensed download.
"Please be aware that due to the ongoing Covid 19 situation we are currently not fulfilling physical orders, a digital version will be provided at a discounted cost. Please apply coupon code covid19 at the checkout"
Seachanges and RIAM Piano Syllabus pieces are still available to purchase online as a physical product. The price has been adjusted to include P&P.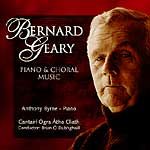 This CD presents a selection of Bernard Geary's piano and choral music. Pianist Anthony Byrne performs Scherzo, Two Cameos, And Lastly Came Cold February and Sonatina. The choral works are performed by Cantairí Óga Átha Cliath and include Ave Verum, Liquid Emotion, A Dream Garden, The Divine Image, Éist le Fuaim na hAbhann and Dóchas.