One Day Fine
CMC's online store has Digital Scores, Printed Scores, Books, & CD's all available to purchase online. The works contained within our Choral Music Catalogues are available to purchase online by licensed download.
Owing to Covid19, we are not fulfilling physcial orders of Scores, a digital copy will be provided where available. Please use coupon code covid19 for scores which will be received in digital format. 
Copies of Seachanges and the RIAM curriculum pieces are available in physical format.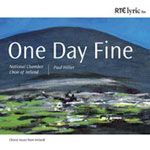 One Day Fine is a sonic journey through the breadth of Irish choral music. This is a recording of compositions from very different eras, cultures and politics, all unified under the direction of the National Chamber Choir of Ireland's internationally acclaimed director, Paul Hillier.