Loop Walks - Words for Voices
CMC's online store has Digital Scores, Printed Scores, Books, & CD's all available to purchase online. The works contained within our Choral Music Catalogues are available to purchase online by licensed download. All orders, both physical and digital take between 5 and 10 business days to be processed. 
Please note that not all scores listed for sale have parts.  Should you require parts (including tape parts) for any of these scores, they are available upon request by contacting our Production Coordinator, Keith Fennell. 
To visit the library by appointment, please see here for details on how to book.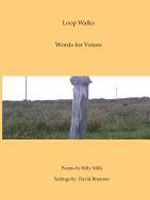 Loop Walks is a series of eight poems, each one mapping a walk from memory. The score and accompanying CD are produced by hardPressed poetry and Béal Festival, the work having been commissioned for Béal Festival in 2012.
hardPressed poetry and Béal Festival