Loop Walks - Words for Voices
Please be aware that due to the ongoing COVID-19 pandemic and the current restrictions on movement, we are unable to fulfil physical orders. We are endeavouring to fulfil score orders digitally and have made available to you a discount coupon "covid19" which you can apply to your order at checkout. Please note that digital scores are subject to availability, please contact kfennell@cmc.ie if you have any queries regarding your order.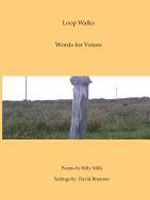 Loop Walks is a series of eight poems, each one mapping a walk from memory. The score and accompanying CD are produced by hardPressed poetry and Béal Festival, the work having been commissioned for Béal Festival in 2012.
hardPressed poetry and Béal Festival