The Kilcormac Cantata
CMC's online store has Digital Scores, Printed Scores, Books, & CD's all available to purchase online. The works contained within our Choral Music Catalogues are available to purchase online by licensed download. All orders, both physical and digital take between 5 and 10 business days to be processed. 
Should you require parts (including tape parts) for any of these scores, they are available upon request by contacting our Production Coordinator, Keith Fennell
To visit the library by appointment or have a virtual consultation with library staff, please see here for details on how to book.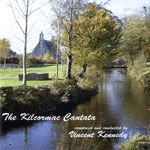 Commissioned by Offaly County Council, Vincent Kennedy's Kilcormac Cantata is the result of a public art project inspired by the stories, events and history of the people of Kilcormac, Co. Offaly. The work was recorded in November 2011 and the project involved national school students, members of Coláiste Naomh Cormac Grúpa Ceoil, the Frankfort Rockers and St. Cormac's Choir performing alongside professional musicians.
Artists
Adele O'Dwyer (vc), Matthew Manning (ob), Patrick Hughes (sax), Cliona Warren (bn), Niall O'Sullivan (tpt), Karen Abe (pf)(tpt), Oisín Kennedy (perc), Noel Larkin (gui), Aisling Kennedy (S-solo), Gráinne Kennedy (Mez-solo), Nicole O'Sullivan (vn), Saffron O'Sullivan (vn), Stephen O'Sullivan (vn), conductor Vincent Kennedy. Narrator Liam Currums. Children from Scoil Mhuire agus Chormaic, St Kieran's National School Broughall, Coláiste Naomh Cormac Grúpa Ceoil, St Cormac's Choir - Church of the Nativity and The Frankford Rockers. Eleanor Lamb - Facilitator and director for "The Symphony of the Bog" and "The Screeching Valley".