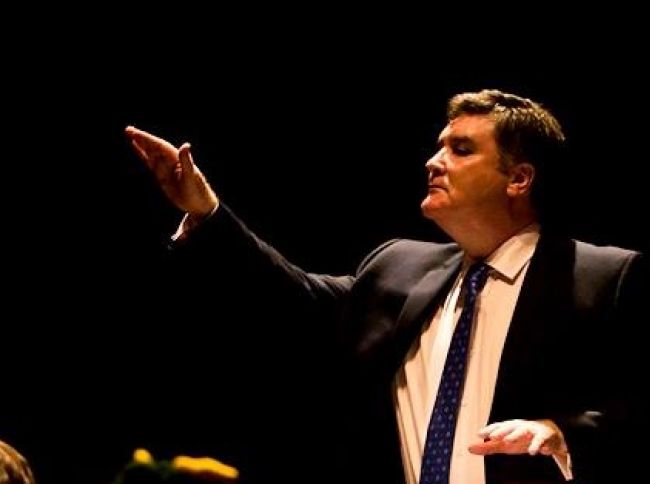 Music has been a faithful friend: always there to uplift, distract, colour and comfort. I write music to enrich life and take my inspiration from many sources and possibilities, like a bee using the nectar of different flowers to produce a unique honey.
Vincent Kennedy was born in Dublin and studied trumpet winning many major prizes at the Feis Ceoil and performing with RTÉ National Symphony and other orchestras and ensembles before establishing himself as a composer. Vincent came to prominence as a composer when he won the RTÉ music prize for his piece "Soliloquy and March". He is a member of the Association of Irish Composers and a founding member of the Irish Film and Television Academy.
Vincent has written for orchestral, chamber, symphonic and brass bands, choral and other instrumental combinations. His music has been performed by the RTÉ National Symphony Orchestra, Orchestre Symphonique de Bretagne, RTÉ Concert Orchestra, Orchestra Chambre D'Ariege, the Dublin Philharmonic Orchestra, Antipodes Ensemble, Concorde, Donegal Camerata, Cantando, the Rathfarnham Concert Band Society, the Band of An Garda Siochána, the combined bands of the Irish Army and many symphonic wind ensembles, brass and pipe bands throughout Ireland, Europe, USA and Canada. He has written works for orchestra and solo violin for Marie Cantagrill ("Dóchas, Grá agus Suaimhneas, Saoirse" 2017) and Cora Venus Lunny ("Dreams" 2009). In addition his music is widely broadcast and he conducted his music at the World Harp Congress, WASBE, the Kilkenny Arts Festival, the Errigal Festival, Bloomsday, the IAYO Festival and the Babóro International Children's Festival.
Recent projects include "Dóchas, Grá agus Suaimhneas, Saoirse"(2017); "...spaces in your togherness.." 2017 commissioned by the Glana Trio of Greece and being released on their CD "Switch" in October 2017; The Canticle of Creation" (2016) a setting in 10 songs of St Francis' poem for Soprano, Harp and Trumpet which is being performed in concerts across Ireland; "IRISHMEN AND IRISHWOMEN" (2016) an orchestral and choral suite of 13 movements which commemorates 1916 Rising: "The Torch Still Burns Brightly" (2014) a large scale setting of the words of John F. Kennedy and episodes from his life; the Harp Ensemble piece "The Chronicles of Meath" (2013); A setting of Oscar Wilde's "The Happy Prince" (2012) for narrator, chorus and orchestra: The children's musical "The Heart of Truth" (2012); "The Kilcormac Cantata" (2011); "Where the North Wind Blows" (2011); and "Dublin – Overture to My City" (2009 -2011). Vincent has been commissioned by the French Violinist Marie Cantagrill, RTÉ lyric fm and the RTÉ Orchestras as well as the Franciscan Order of Ireland (The Canticle of the Sun) and Roscommon, Donegal, Meath, Offaly, Wexford and Wicklow County Councils under the per cent for Arts Scheme. He has also been commissioned as part of the peace process in the Peace II and Peace III initiatives. His music "Soliloquy and March" won the RTÉ music prize for music to celebrate the life of the broadcaster Michael O'Hehir.
He has written pieces on social issues including "S-Trumpet City" (2013) on the Dublin lockout, "Tommy Donnybrook" on homelessness and addiction and "Galileo's Tears" (2009) on child abuse. Other works of recent years include his first symphony "The Hook - A Place and A People" (2005), "The Winds of Change" (2007) and "What's a Heaven For?" (2006). "What's a Heaven For?" (2006) has been a test piece for the National Band Championships.
Vincent is also an accomplished conductor and very committed to the music education of young people. He regularly produces and directs concerts of his works in the National Concert Hall, Dublin and other venues. Vincent conducted the European premiere of his music for Violin and Orchestra "Dreams" in Tirana in September 2016 with the National Symphony and Lirza Zaloshnja Soloist. In March 2018 he will be a member of the international Jury for del concorso internazionale bandistico Flicorno d'Oro in Riva del Garda, Italy and in July 2018 a member of the jury for the Marie Cantagrill International Violin competition in Foix, France.