Islands : Contemporary Irish Solo and Ensemble Works for Guitar
CMC's online store has Digital Scores, Printed Scores, Books, & CD's all available to purchase online. The works contained within our Choral Music Catalogues are available to purchase online by licensed download. All orders, both physical and digital take between 5 and 10 business days to be processed. 
Please note that not all scores listed for sale have parts.  Should you require parts (including tape parts) for any of these scores, they are available upon request by contacting our Production Coordinator, Keith Fennell. 
To visit the library by appointment, please see here for details on how to book.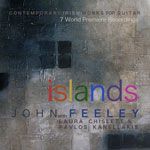 Islands, the title of this recording, is taken from Seóirse Bodley's work for guitar. However, it also reflects that the CD comprises a set of disparate and varied works, recorded at different times and in different venues on a variety of instruments. The collection encompasses a wide variety of compositional styles and approaches to writing for the guitar and offers a good overview of the contribution to this genre by Irish composers. The seven works presented are all world premiere recordings.