The Heart of Truth
Please be aware that due to the ongoing COVID-19 pandemic and the current restrictions on movement, we are unable to fulfil physical orders. We are endeavouring to fulfil score orders digitally and have made available to you a discount coupon "covid19" which you can apply to your order at checkout. Please note that digital scores are subject to availability, please contact kfennell@cmc.ie if you have any queries regarding your order.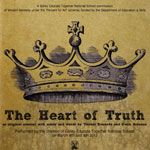 The result of a public art project in Gorey, Co. Wexford from 2012, 'The Heart of Truth' features Vincent Kennedy's work performed by the children of Gorey Educate Together National School.
Artists
Children of Gorey Educate Together National School, Michael Buckley (fl) (sax), Ronan Dooney (pf), Tom McDermott (dmkit), musical director Ronan Dooney. Director Declan O'Brien. Producer Vincent Kennedy.