Circle of Light
CMC's online store has Digital Scores, Printed Scores, Books, & CD's all available to purchase online. The works contained within our Choral Music Catalogues are available to purchase online by licensed download.
Owing to Covid19, we are not fulfilling physcial orders of Scores, a digital copy will be provided where available. Please use coupon code covid19 for scores which will be received in digital format. 
Copies of Seachanges and the RIAM curriculum pieces are available in physical format.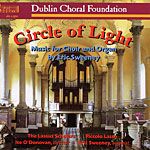 Contemporary music for choir and organ by Eric Sweeney performed by The Lassus Scholars and Piccolo Lasso under their director, Íte O'Donovan and with the composer as organist. 'Circle of Light' spans the past two decades of Sweeney's output and includes major works such as 'Le Cercle de Lumiere', 'Missa Brevis' and 'The Widening Gyre'. The CD was recorded using the restored organs of Christ Church Cathedral, Waterford, in 2003.