Circle of Light
CMC's online store has Digital Scores, Printed Scores, Books, & CD's all available to purchase online. The works contained within our Choral Music Catalogues are available to purchase online by licensed download. All orders, both physical and digital take between 5 and 10 business days to be processed. 
Please note that not all scores listed for sale have parts.  Should you require parts (including tape parts) for any of these scores, they are available upon request by contacting our Production Coordinator, Keith Fennell. 
To visit the library by appointment, please see here for details on how to book.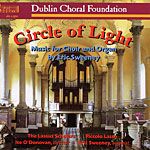 Contemporary music for choir and organ by Eric Sweeney performed by The Lassus Scholars and Piccolo Lasso under their director, Íte O'Donovan and with the composer as organist. 'Circle of Light' spans the past two decades of Sweeney's output and includes major works such as 'Le Cercle de Lumiere', 'Missa Brevis' and 'The Widening Gyre'. The CD was recorded using the restored organs of Christ Church Cathedral, Waterford, in 2003.