Cinémagique
CMC's online store has Digital Scores, Printed Scores, Books, & CD's all available to purchase online. The works contained within our Choral Music Catalogues are available to purchase online by licensed download. All orders, both physical and digital take between 5 and 10 business days to be processed. 
Please note that not all scores listed for sale have parts.  Should you require parts (including tape parts) for any of these scores, they are available upon request by contacting our Production Coordinator, Keith Fennell. 
To visit the library by appointment, please see here for details on how to book.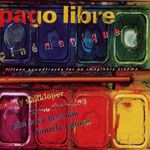 'Fifteen soundtracks for an imaginary cinema'. This award-winning CD was recorded by the pan-European quartet Pago Libre which comprises Irish-Swiss composer and pianist John Wolf Brennan, Russian horn player Arkady Shilkloper, Viennese violinist Tscho Theissing and Italian bass-player Daniele Patumi.