Avatars
CMC's online store has Digital Scores, Printed Scores, Books, & CD's all available to purchase online. The works contained within our Choral Music Catalogues are available to purchase online by licensed download. All orders, both physical and digital take between 5 and 10 business days to be processed. 
Should you require parts (including tape parts) for any of these scores, they are available upon request by contacting our Production Coordinator, Keith Fennell
To visit the library by appointment, please see here for details on how to book.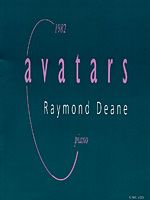 Avatar is a Sanskrit word meaning, variously, a 'passing down', 'an embodiment' and 'a visible manifestation of an abstract form'. In this powerful work, the abstract forms are three note-rows that are mined for their intervallic content. At the end, a quote from a Hugo Wolf song reminds us that 'all that comes to pass must end'.
Contemporary Music Centre Editions
Contemporary Music Centre