5 Questions for saxophonist Gavin Brennan
Gavin Brennan features in CMC's Salon on 27 October at the Luthern Hall, Dublin with a programme of works by Eric Sweeney, Deirdre McKay, Jonathan Nangle, Ailis Ni Riain and Matthew Whiteside. In advance of the event, CMC asked him the following 5 questions. See more about the Salon here. 
How did you go about selecting the programme?
The works have been chosen to showcase a broad range of styles found within Contemporary Irish Music. The aim of the programme is to try to expand and broaden the view of what Irish music can be. The works find the influences in everything from German texts to African percussion music, but yet they remain Irish works.
An issue that really interests me is "what makes Irish music Irish?" Sometimes there can be an expectation for anything Irish, including music, to "look or sound Irish" (whatever that may be).

Are there any particular connections or similarities between the works you've chosen?
This is a programme that has developed organically since the beginning of last year. Out of the five works on the programme, only Matthew Whiteside's Laya and Jonathan Nangle's new work, Artificial Blissful State were originally written for the instrumentation they'll be performed in. Deirdre McKay, Ailis Ni Riain and Eric Sweeney have all created new adaptations of their works for us to perform.
What links this programme of solo, duo, trio and quartet works is the idea of these compositions allowing us as performers explore the space where soloist and ensemble blend, dissolve and intertwine.
You regularly programme and perform music by Irish composers, what is it most that excites you about performing their work?
As a saxophonist performing "living music" is something that resonates quite strongly with me. Being a relatively young instrument the saxophone doesn't have the history of repertoire other instruments have. A lot of times composers are writing for the saxophone for the first time, or reimagining their existing works for the instrument. As a performer it's great to experience these creative ideas, unburdened by strict performance tradition.
What's exciting for me is even though some would see contemporary music as one genre, in Ireland it is fantastically diverse, eclectic and full of great innovation. There is a large amount of music being created in this country that isn't immediately thought of as Irish music. It's exciting for me that I can be a part of changing that perception for audience through the performance and programming of contemporary Irish music.
Even though I perform on the main four saxophones, (soprano, alto, tenor and baritone) the solo repertoire still isn't that large. Over the last few years I've tried to develop the repertoire by encouraging composers to reimagine some of their existing compositions originally for other instruments for the saxophone. It's this sense of giving new life to something already existing that excites me most.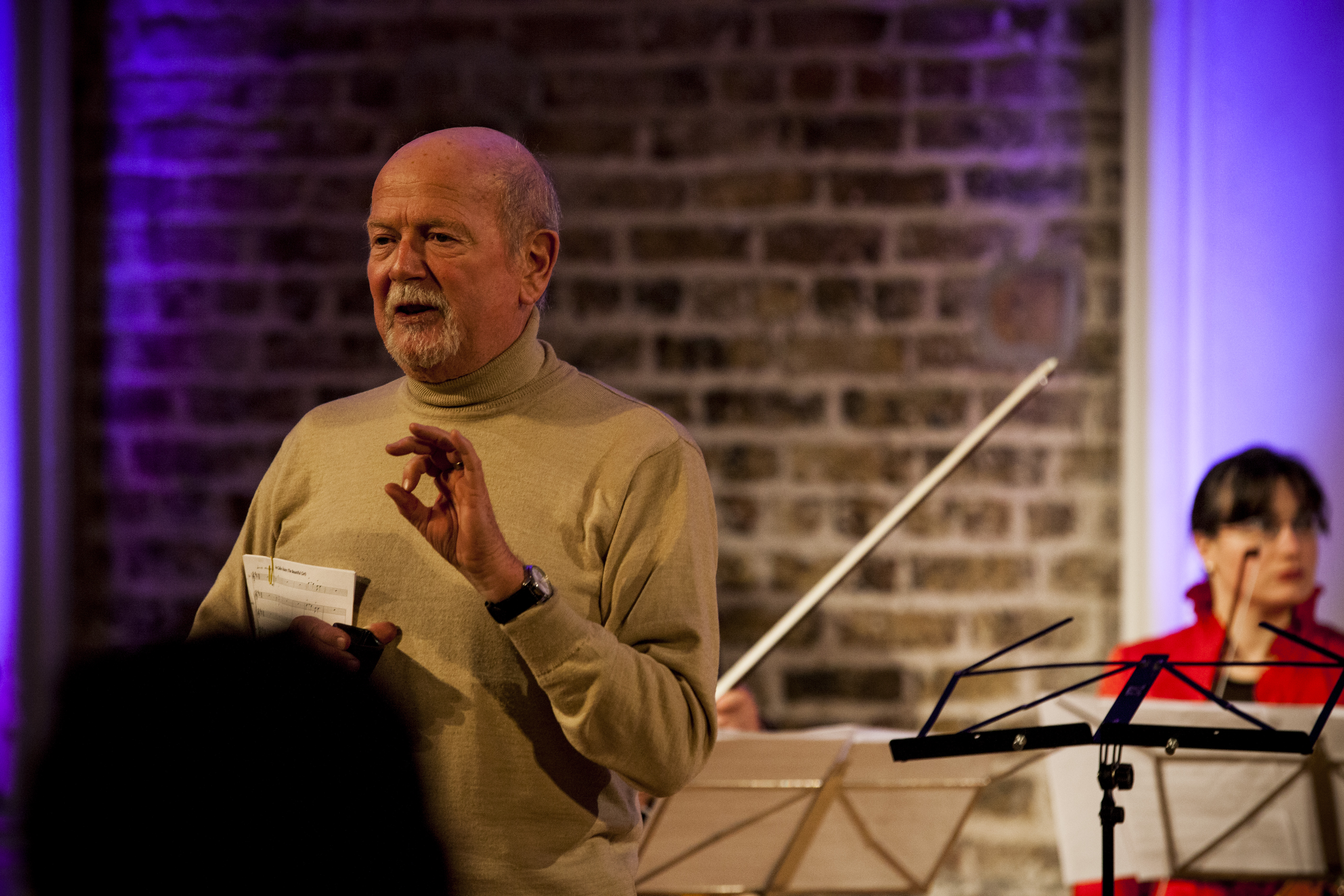 Eric Sweeney
The programme includes a new work by Jonathan Nangle. What led you to asking him to write this piece for you?
What draws me to Jonathan's compositional style is that his music doesn't adhere to one box, or even a single art form. His music, and the topics of inspiration behind them, gives an audience an experience beyond just the audio of the music.
I had recently received funding from Music Network to buy a baritone saxophone. The baritone saxophone doesn't have much music written for it outside of a saxophone quartet. When I approached Jonathan about the possibility of writing for the instrument it wasn't long before he got in touch with some pretty exciting ideas, which have culminated in Artificial Blissful State.
It is equally important that the composer believes in the potential of the instrument as much as I do. The baritone sax is an extremely underused instrument, one which can do a variety of things that many composers would be excited and inspired by. I think Jonathan has really captured this potential in the work.
How do you find the contemporary music landscape in Ireland for young musicians today?
As a musician the contemporary music landscape in Ireland is a wonderfully enthusiastic scene where composers have been extremely passionate and supportive of my programming and performing of their work.
My first interaction with the contemporary music landscape in Ireland was through Concorde. Jane O'Leary selected me as the first "Young Artist" to perform with the group back in 2013. Being given that opportunity was huge for me as it opened my eyes to this vibrant, vivid world of new, living music, and helped shape the direction of my performance career.
Unfortunately, contemporary Irish music performers don't have equivalent organisations that composers do in the CMC, the AIC or the ICC, and I think that some more focus needs to be put on nurturing the performance of new music. Contemporary music is usually left untouched until the advanced stages of music education. Although a lack of resources is always an issue, a reconciliation of today's music with today's music education would be extremely beneficial.
One way to address the challenges faced by contemporary Irish music is to develop a culture that enjoys the music created by Irish people. This support needs to come not just from one composer or musician to another. It needs to come from all across the creative landscape of Ireland. Support from other genres of music, from other art forms and festivals, from media outlets, from venues, and from promoters would breathe new life into the contemporary music scene.