Christmas Message from CMC
As the CMC team reflects on 2019, we celebrate a year of numerous inspirational highlights for contemporary music from Ireland and its significant contribution to cultural life on the island and on the international stage. As the resource organisation for contemporary music from Ireland, the CMC team has enjoyed engaging with composers and performers across 2019, providing support, advice and professional development; introducing composers to new networks and opportunities; amplifying composer events and projects; and delivering the practical support of CMC as a venue for the contemporary music community for launches, panel discussions, workshops and networking events.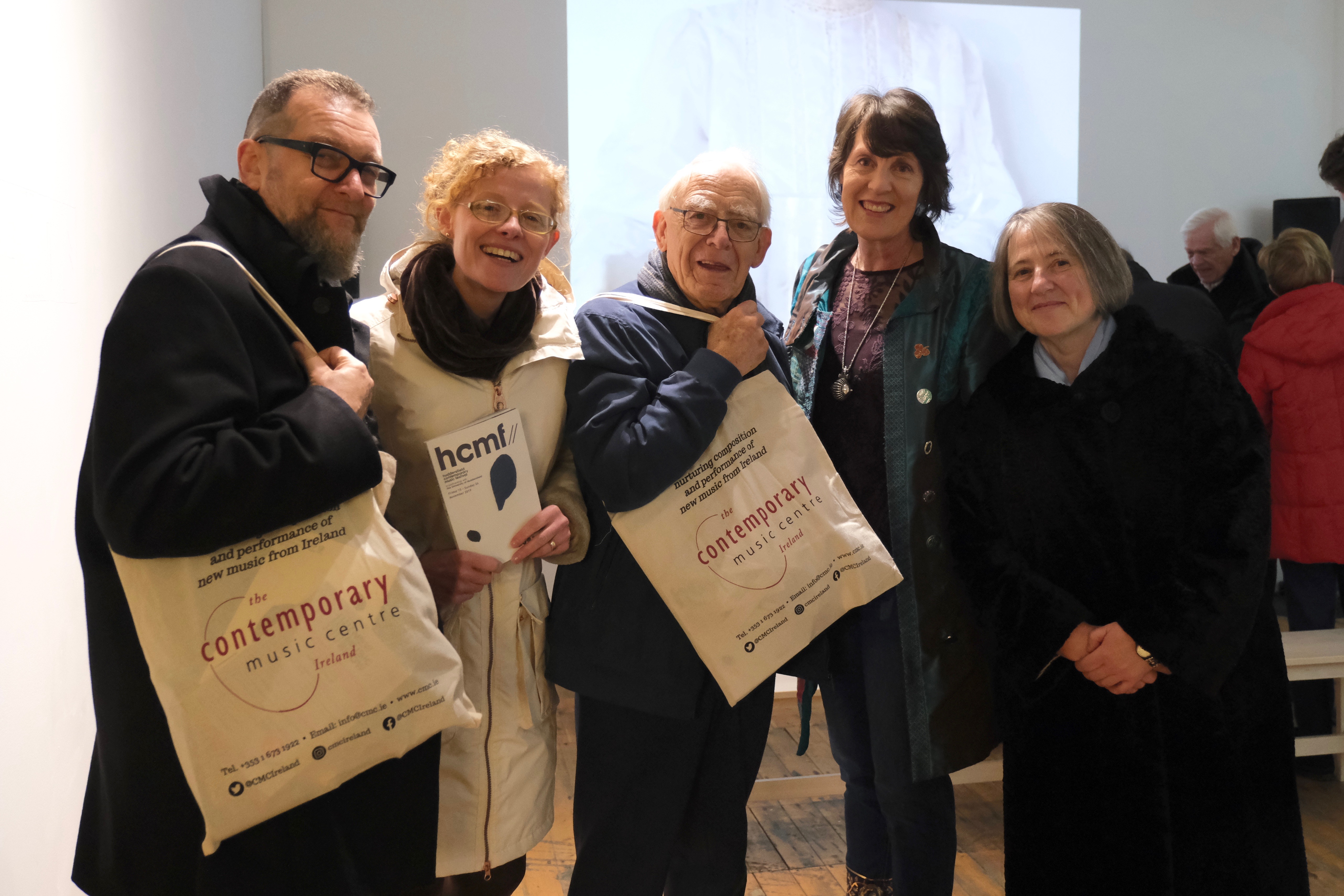 Huddersfield Contemporary Music Festival - L-R: Graham McKensie, Evonne Ferguson, Richard Steinitz, Linda O'Shea Farren, Dr Patricia Flynn (photo Brian Slater)
Complementing the ongoing work of the library in the cataloguing of works by CMC composers and the provision of scores and catalogues for research and performances, CMC was invited to present on our 2018 Digitisation Project at the International Association of Music Libraries' annual congress in Krakow, Poland in July. Through a series of features in Library Ireland Week 2019, performers, conductors, composers and researchers discuss the role that CMC's library plays in inspiring their work and in deepening their knowledge of composers and contemporary music from the island of Ireland. This year, funding from the Department of Culture, Heritage and the Gaeltacht enabled CMC to develop a new Collection Management System (CMS) to ensure the long-term preservation of CMC's existing and future data. This CMS will provide a solid foundation for CMC to grow and develop its digital collections and online resources, allowing users to browse, explore and discover content in CMC's collection.
Supporting the development of and access to new repertoire by composers from Ireland is central to CMC's work. In 2019 CMC was a key partner on Tionscadal na nAmhrán Ealaíne Gaeilge / Irish Language Art Song Project, a collection of fifty new art songs by Irish and international composers, exclusively setting Irish language text. A special section of the CMC website was created to host all the materials related to this project; the sheet music and recordings, together with an International Phonetic Alphabet pronunciation guide and word-for-word English translation. All materials are available to access at no cost.
In CMC's strategic aim to increase awareness and engagement with the rich and diverse landscape of contemporary music from Ireland, in October, CMC launched a new podcast amplify. This fortnightly podcast aims to present new music and composers from the island of Ireland in an engaging and innovative way. amplify will explore current issues relating to new music in Ireland, and will profile some of its most interesting voices through interviews, features and discussions.
In our strategic aim to increase performances and commissions across the island of Ireland and internationally for composers from ireland, CMC continued to develop international partnerships and deliver international projects throughout 2019. CMC partnered with this year's New Music Dublin to present NMDX, an international delegate programme supported by Culture Ireland which invited music presenters and broadcasters to attend the festival and meet with Irish composers, ensembles and new music presenters. The NMDX programme has led to a number of international showcases and events both in 2019 and upcoming for 2020.
Left to right: NMDX delegates Sam Wilcock, Liam Herb, Lawrence Cherney, Kate Molleson and Gretchen Amussen, along with NMD Festival Director John Harris (top photo, 2nd from right)
To celebrate St. Brigid's Day on 1st February, CMC participated in the Irish Embassy's festival in London. CMC collaborated with flautist Emma Coulthard to present a concert of works by composers from Ireland performed by Emma, Benjamin Dwyer and Jenn Kirby in Cardiff on St. Patrick's Day, which was supported by the Irish Consulate in Wales. In May, CMC attended the annual meeting of the International Association of Music Information Centres and ISCM World Music Days in Estonia, and arranged a networking event hosted by the Irish Embassy in Tallinn. In November, CMC collaborated with the Artistic Director of Plural Ensemble, composer Fabian Panisello, to deliver two concerts showcasing works by a range of composers from Ireland in Madrid (recorded for future broadcast), with a complementary Composer's Voice event hosted by Ireland's Embassy in Spain. CMC also had the pleasure of hosting the opening reception at the 42nd Huddersfield Contemporary Music Festival in the UK in November, in association with Trinity College Dublin's Music & Media Technology programme.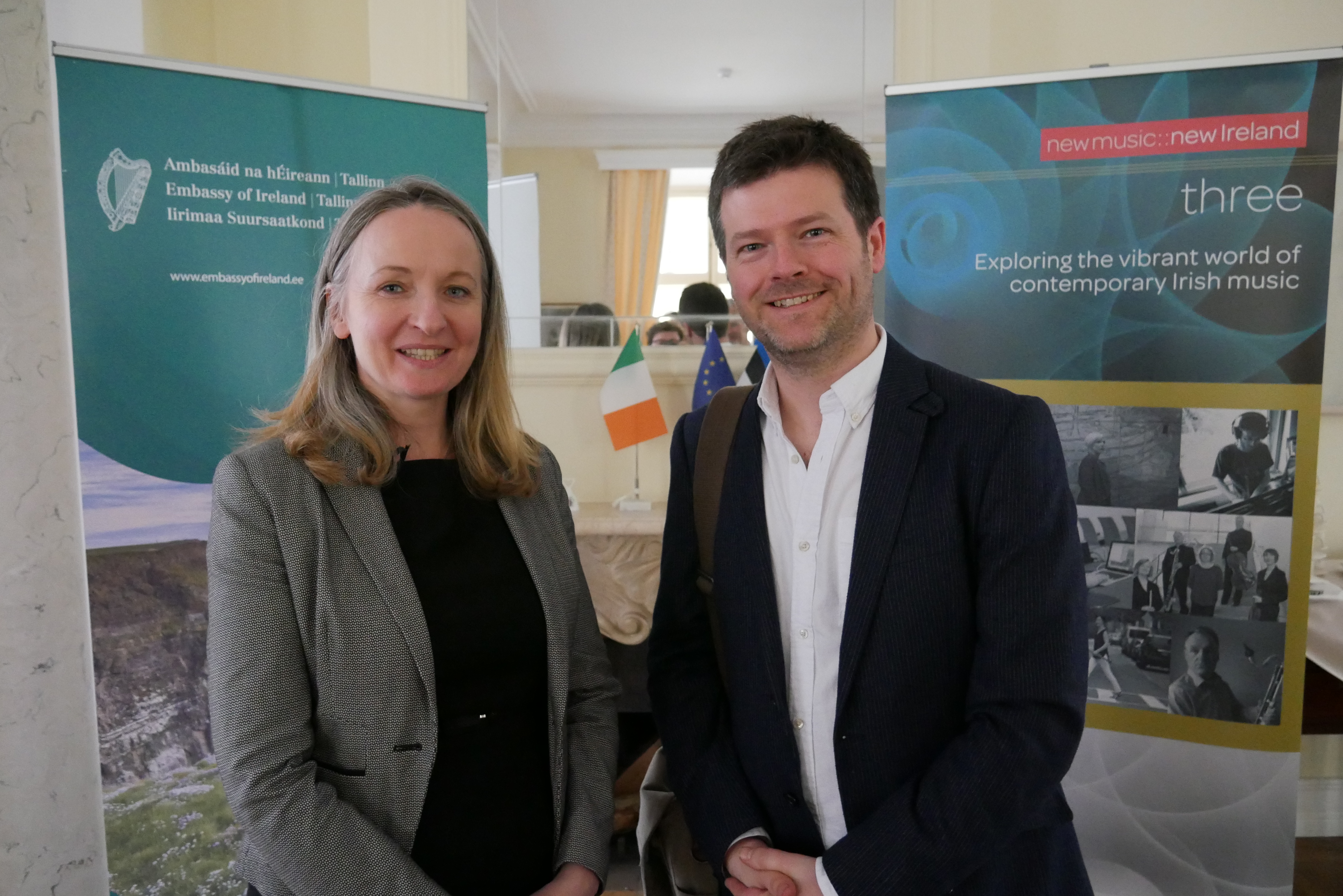 Irish Ambassador to Estonia, Frances Kiernan with David Fennessy at the networking event for IAMIC and ISCM delegates
On our professional development programme with Composer Lab and Choral Sketches, we were delighted that Composer Lab was further enhanced by a live broadcast on RTÉ lyric fm's Blue of the Night. This special programme, was awarded Silver at the 2019 IMRO Radio Awards. In addition, CMC's ongoing partnership with Centre Culturel Irlandais enabled another residency in Paris, and a new partnership with the OPW enabled a 2019 residency at Farmleigh House.
Equality and diversity are at the centre of CMC's work. In advocating for the inclusion of composers continuously since the pilot scheme for social protection for artists was first introduced in June 2017, CMC hosted a Composers' Information Day in partnership with the MUI in July 2019 in preparation for the extension of the Artists' Scheme to all artists effective September 2019. As a Sounding The Feminist partner organisation, CMC supported STF in commencing the Arts Council funded research project on gender balance in publicly-funded financial opportunities for composers across the island of Ireland over the past 30 years.
CMC acknowledges the generous support of the Arts Council of Ireland/An Chomhairle Ealaíon and is grateful to the Arts Council of Northern Ireland for its ongoing support through the Project Lottery awards. Thank you and congratulations to all of you for making 2019 such a successful year for new music from Ireland and wishing all composers we represent, and the performers with whom we are honoured to work, continued success.
Best wishes for a peaceful holiday season and a musically prosperous 2020 from all of us here at CMC's historic base on Fishamble Street in the Cultural Quarter of Dublin.