Jenn Kirby on her recent CMC/AIC soundSCAPE Residency
Fri 8 Sep 2017
Swansea-based Irish composer Jenn Kirby attended the soundSCAPE festival in Maccagno, Italy as the 2017 Irish Artist-in-Residence. The annual residency is offered in association with CMC and the Association of Irish Composers, with support from Culture Ireland and took place from 25 June–8 July.
As part of the residency you programmed a concert of contemporary music by Irish and Ireland-based composers. How did you go about selecting works for this concert?
I chose to programme solo works featuring electronics. I think this is a strong area of composition in Ireland and it is also a huge interest of mine. I wanted to programme works for solo instruments because I was interested in working with solo performers in soundSCAPE who perhaps had never worked with electronics before and support them through the rehearsal and performance. I wanted the concert to highlight the diversity and proficiency of this area of composition in Ireland.
The works themselves are all by composers that I deeply admire. Written in a 10-year span, with Ann Cleare's IRK written in 2006 and Enda Bates's Calls from the Fog written in 2016. Even narrowing works to solo and electronics pieces, the selection is difficult. There are so many great composers working in this field. The goal was to curate a concert that displays some great works by Irish composers and give the audience a sense of what the Irish instrumental-electronic scene is like. It was really a personal experience, since these composers are my peers and teachers. I'm thrilled with how it all turned out. The performers did an amazing job.

Jenn Kirby with cellist Min seok Ko (photo Daryl Feehely) 
As part of the residency, you drew on your experience as both a performer and composer to deliver workshops and tutorials. How does this dual identity influence your work as a composer?
I think sometimes we can get caught up – or at least I did – with focusing too much on creating an identity that it prohibits us from doing anything that goes beyond that. I always considered myself a composer first and although I have been a performer for many years, it is only in the past couple of years that I have really embraced solo performance. In the beginning, I found myself explaining - "Well, I'm really more of a composer". I'm not sure why. I think I was afraid of losing my composer identity. I've learned now that you can be both and more. My compositional practices include, noise music, electronic music, sound art, contemporary instrumental music, sound design for theatre and dance, laptop orchestras and solo live electronics. My non-compositional practices mainly consist of: lecturing, performing and co-organising concerts. All the skills you learn in these roles cross over to one another, so instead of feeling like you might be diluting your output by dividing it up, I believe you strengthen it.
Performing enables me to be a better composer, because you develop your understanding of movement in performance and how to interpret the material beyond what is written on the page. I think having as many perspectives on music creating, performing, improvising and listening is a good thing.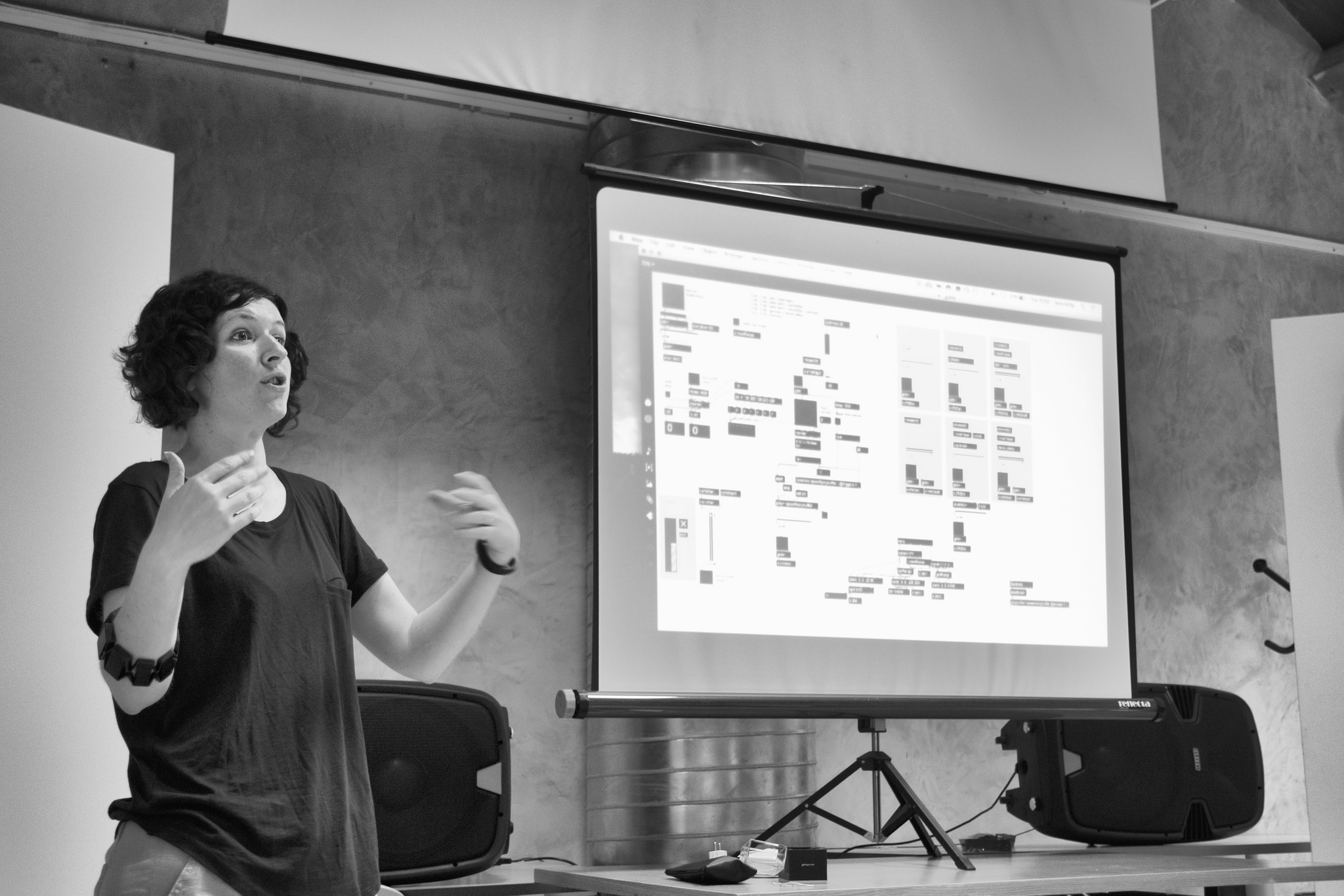 Jenn Kirby during one of the workshops (photo Daryl Feehely) 
The workshops I delivered were a way of identifying specific issues in a holistic context. We looked at issues that both composers and performers face when dealing with electronics. For example, controllers tracking movement of performers – for the performer there can be questions around the desired output of these movements and a feeling of disconnect – for the composers, it can be different performers move differently and so produce different results. Having a clear idea of the desired outcome, both aurally and visually, will help guide both composer and performer.
What were the highlights of the residency for you?
The highlights of the residency for me where to be able to discuss technical and aesthetic implications around performing with live electronics and also discussing living as an artist. The festival hosts participants from all over the world and so discussing diversity in your own practice with such a diverse group was particularly special. The sharing of ideas works both ways, by presenting certain issues around composition, instrument design and performance, we were able to share potential solutions in an open and inclusive manner. I am very grateful for the opportunity to bring Irish music to the festival and to share my music, passions and approaches to composition and performance. A lot of work goes into making this residency happen and I am very grateful for the support from the AIC, CMC, soundSCAPE and Culture Ireland. I also want to thank the faculty and participants of soundSCAPE for their openness and interest in my work and the work of Irish composers.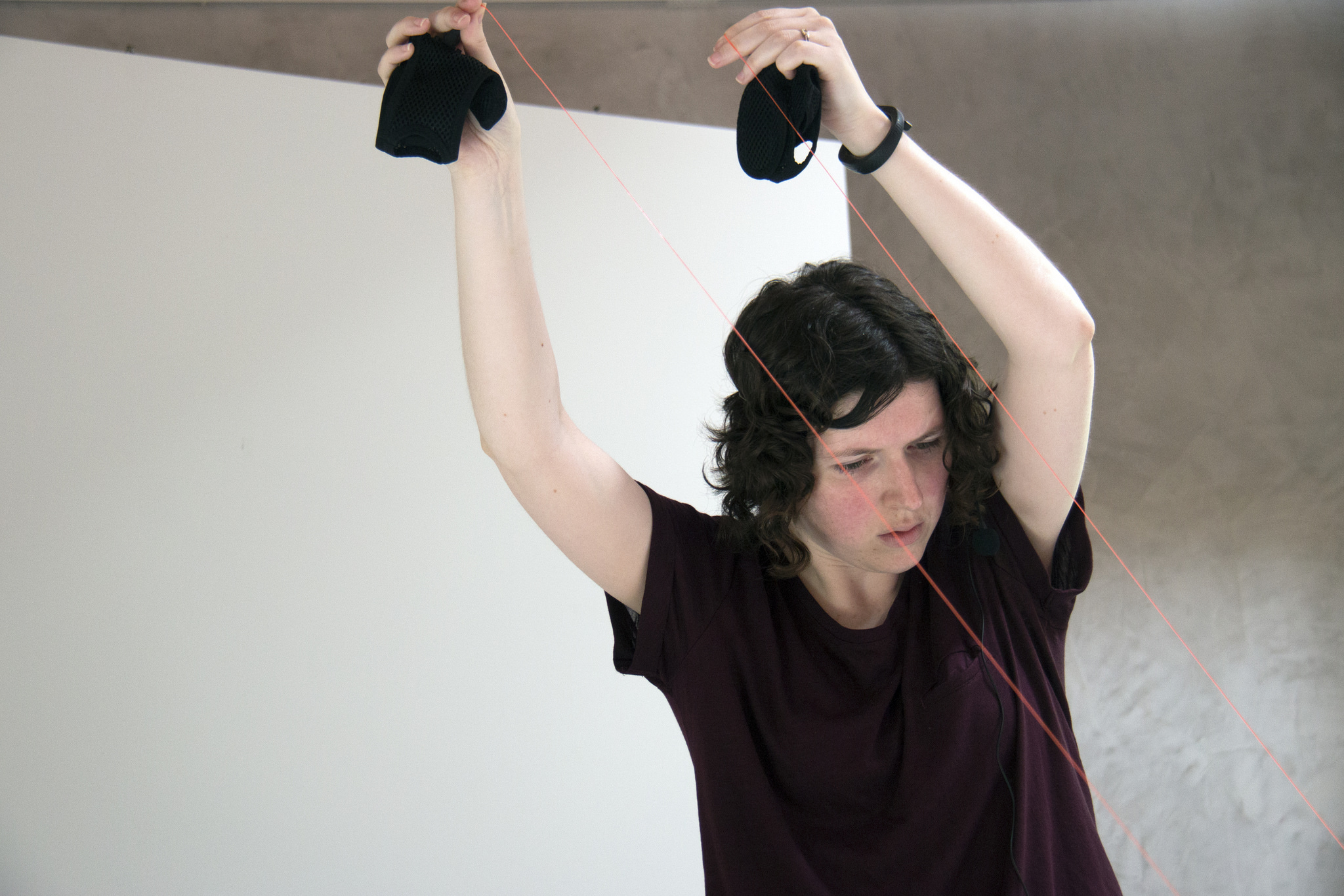 Jenn Kirby during the live electronic performance workshop at the soundSCAPE festival  (photo Daryl Feehely)