Ailís Ní Ríain on her composer residency at the Centre Culturel Irlandais, Paris
Fri 8 Sep 2017
A report from Ailís Ní Ríain on her residency earlier this year at the Centre Culturel Irlandais. The annual residency for Irish composers, which takes place in January and February each year, is a partnership between the Contemporary Music Centre and the Centre Culturel Irlandais.
In early 2017 I was lucky enough to be offered a one month residency at the Centre Culturel Irlandais in Paris as part of their annual residency partnership with the Contemporary Music Centre. I had previously been on a number of residencies which, for the most part, tended to be rural and alongside other practitioners. However, I wanted to experience a different kind of creative residency and this partnership presented me with that opportunity.
Based within a few minutes walk of the Panthéon in central Paris in the 5th arrondissement - a terrific location - I was offered a comfortable, en-suite, warm room in the Centre Culturel Irlandais' accommodation quarter. I commenced the residency in mid-January and departed in mid-February.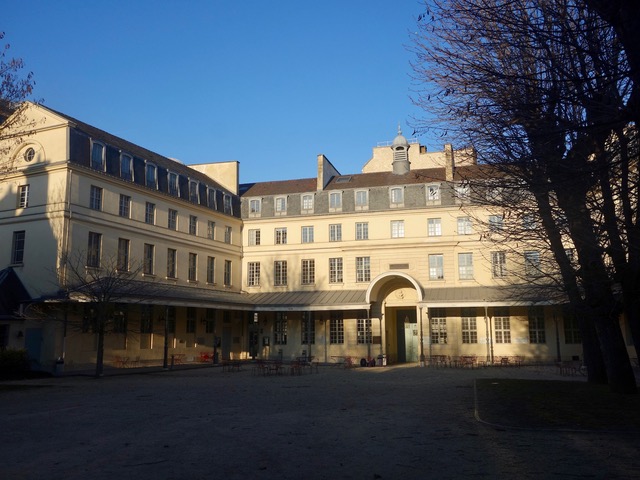 During the residency I worked mainly on two different projects; one 'pure' music, the other music-theatre with texts. In addition, I would add a daily set of improvisations on the centre's piano to develop my improvisational language and to work on a set of compositional ideas I had brought with me. These I had begun months before however had not had the change to focus on specifically. This dedicated time – where I also recorded my work and listened back to analyse what I was doing instinctively – was tremendous
The centre itself was quiet most of the time which was welcome. They have a good exhibition space which focuses on promoting the work of Irish visual artists which I enjoyed visiting in addition to a programme of events held in a performance space within the centre – these can be anything from talks and readings to concerts.
There was one other Irish artist on residency at the ICC at the same time, this was the Irish writer Rob Doyle [All The Young Men and This is the Ritual], followed, at the end of my time there by the Irish theatre-maker Amy Conroy. Rob and I met and indulged in a long and fascinating conversation about the concept of 'Irishness' in our respective art forms. Although we worked in rooms almost adjacent to each other, we were both focused on our work and otherwise saw each other rarely.
While I had made some plans to attend some events while in Paris, when it came to it, I was too focused on my work to want to break off and do anything else. One month is not long when you are dedicatedly working on new material and I didn't want to be too distracted or indeed influenced by some of the art on my doorstep.
About mid-way through my stay I began to make some progress with a piece of work which was had, up to that point, become something of a nightmare; I couldn't come 'unstuck' and felt constrained by the time-scale I was working to. This often happens to artists on residency. It is easier than you might think to panic in these situations, especially if you have come to the residency with a specific amount of work you need to get done.  Sometimes the duration of the residency is an excellent time-frame to achieve a progressive and balanced daily routine, other times, if 'stuck',  there can be guilt about being 'in this great place with all the time in the world' and still not being able to create.
At times I felt guilty that I wasn't taking more advantage of the epic cultural distractions on 'my doorstep' - especially if I wasn't making good progress with my own work. Again, on rural residencies there is less [internal] pressure to 'see stuff', which might be something worth bearing in mind if you are planning a residency in a large city. I am pretty determined and decided to stay focused on what I was in Paris to do, and I said to myself I could 'do the tourist thing' in my final days of my stay if I had made sufficient progress on my work.
Here is one of the piano pieces I recorded during my residency:
During the final week of the residency we presented a performance of Sklonište; my homage to the survivors of the Siege of Sarajevo during the Bosnian War (1992–1996) for which the Irish classical accordionist Dermot Dunne came over from Dublin to join me. He performed the 60-minute work (with video) to a capacity audience including two women from the former Yugoslavia who lived through the war and another from Sarajevo itself who had lived during the siege. It meant so much to have them there and to get their 'nod of approval' for Sklonište.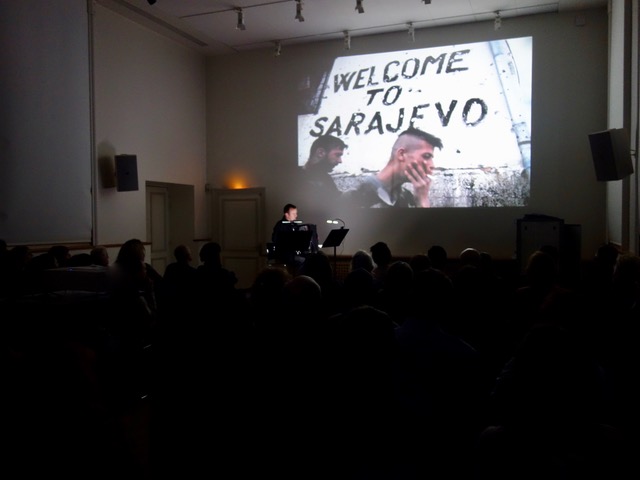 Towards the end of my residency when I felt that my work was finally coming together, I relaxed a little more and ventured out and about for long walks, taking photographs and soaking up the atmosphere. The cold spell (it was minus 3 degrees in the daytime when I arrived) had passed and I enjoyed my adventures especially to a variety of churches to see the stained glass. 
Photos - Ailís Ní Ríain