Shades & Halflights: The Sherman-Petcu Duo featuring new works by Ed Bennett, Siobhán Cleary, Áine Mallon, Kevin O'Connell & Nick Roth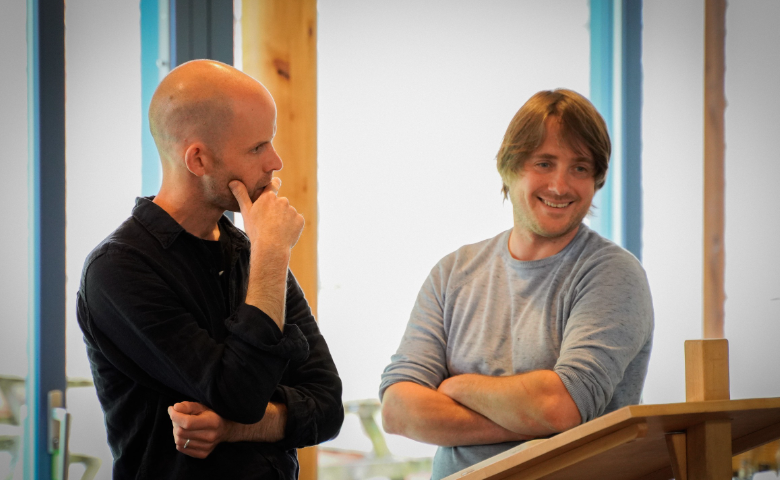 Nathan Sherman (viola) and Alex Petcu (percussion) present a dynamic programme of newly commissioned and existing works for viola and percussion by CMC composers Ed Bennett, Siobhán Cleary, Áine Mallon, Kevin O'Connell and Nick Roth alongside works by international contemporaries at London's Café OTO.
Nathan Sherman
America- born violist Nathan Sherman has been based in Dublin since 1999 and enjoys a career collaborating with other adventurous musicians. His curiosity and eclecticism allows him to present work ranging from Schütz and Purcell, to experimenting with heavy metal and aquariums. Nathan is a tireless commissioner and his "commanding and assured" performances (Journal of Music) have brought him around the world.
As founding member and Artistic Director of the acclaimed chamber group Ficino Ensemble, Nathan performs a vast amount of music and has released two albums. Folk Songs included works by Luciano Berio and was described as "bewitching new interpretations by the Irish chamber group". (Guardian) The album was included in the Guardian's Top 10 of 2022 and best of Bandcamp's contemporary classical. The group also enjoy creating opportunities for younger composers through their yearly workshop series.
http://www.nathanshermanmusic.com/bio.html
Alex Petcu
An Irish musician of Romanian origin, Alex is quickly establishing himself both nationally and internationally as a percussionist of the finest calibre. His debut album, "Alex Petcu: In Time", released on the RTE lyric fm label, showcases both seminal works and new contributions to the percussion repertoire.
Alex performs in a wide variety of settings with a multitude of orchestras, ensembles and groups, however, his main specialty lies in solo and chamber music. As a soloist, recent appearances include performances at the West Cork Chamber Music Festival, Kilruddery House and National Concert Hall to name a few. He has performed as a soloist with both RTE orchestras and the Irish Chamber Orchestra, and had successes in major national and international competitions such as the Irish Freemasons Young Musician of the Year, Tromp and A.R.D. International competitions.
http://www.alexpetcu.com/biography.html
Programme
Kate Moore - Crucible 
Áine Mallon - Arboreal*
Missy Mazzolli - Tooth and Nail 
Interval
Nick Roth - Sophia x Bythos**  [world premiere]
Kevin O'Connell - Encuentro* 
Siobhán Cleary - Scheherazade: The Art of the Trickster** 
Ed Bennett - Twister* 
*Commissioned by the Contemporary Music Centre with funds from PRS Foundation Beyond Borders funding
**Commissioned by the Sherman Petcu duo with funds from the Arts Council of Ireland/An Chomhairle Ealaíon
 
Tickets
Tickets £14/12/7 via Cafe OTO London
Doors open at 8pm, with the concert beginning at 8.30pm.
This event will also be live streamed online, this is £3 or free for members of Cafe OTO. Please see Cafe OTO for more details.
This tour is supported by PRS Foundation Beyond Borders funding.