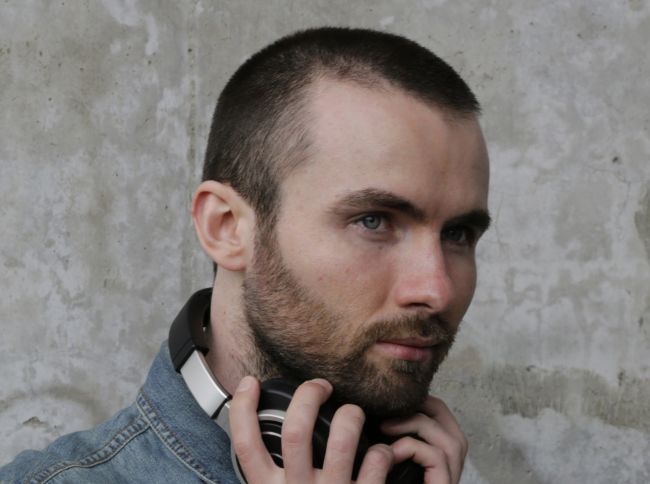 'For me composition is about creating a world to inhabit, feel and experience. It is the composers' responsibility to do everything in their power to make this world believable'. 
Composer Robert Coleman is currently a PhD student at the Sonic Arts Research Centre, Belfast focusing on Ecological Sound Art. His current work draws from numerous fields such as soundscape studies, site-specific art, field recording, community and participatory arts and more. In 2019 he completed his Masters studies at the Royal Conservatory of the Hague with Yannis Kyriakides and Diderik Wagenaar and having also previously studied architecture his work often features spatial concepts and metaphors as frameworks for the composition process.
He has been commissioned by Crash Ensemble and New Music Dublin, the National Concert Hall Dublin, Irish National Opera, the Irish Museum of Modern Art (IMMA), Tallaght Community Arts, violinist Larissa O'Grady and others.
Highly active in artistic direction he is a founding member (co-director 2013-2017) and performer with Dublin based Kirkos, a new music group who have become one of the leading figures for experimental and interdisciplinary work in Ireland. These projects have ranged from Fluxus happenings, to New Discipline performances, to multi-sensory events in the dark. Kirkos have premiered over 200 works to date by Irish composers, and commissioned many of Ireland's most prominent and emerging talents. Robert also held the position of secretary of the Irish Composers Collective from 2015-2017, a collective of country-wide composers who present work by their members through monthly concerts with established contemporary performers.
Robert has a pressing interest in multi-disciplinary work and has collaborated with various artists such as the Experimental Film Society, Pim Piët (visual artist/designer) Laura Sarah Dowdall (dancer/ choreographer with RUNNING BLIND), Mihai Cucu (visual artist), Slipdraft (lighting design) amongst others.
As a performer he has explored experimental repertoire from Irish and international artists, performing at Dublin Fringe 2021, New Music Dublin 2017, Kirkos: Fluxfest, Jennifer Walshe's Aisteach, Kirkos: Body Noise Work and also in collaboration with composer/performer Andy Ingamells and Tonnta amongst others.
He has won numerous national competitions in Ireland including the 2017 Jerome Hynes Young Composers Award and was subsequently commissioned by the National Concert Hall, Dublin to write for their SinfoNua Orchestra for their 2018 performances.
Also a twice winner of the West Cork Chamber Music Festival Composition Competition in 2016 and 2015 through which his first and second string quartets received their premiere at the celebrated festival in Bantry. In 2015 he won the Esker Festival Orchestra Call for Scores, whereby his first orchestral piece 'The Space Inside' was premiered in Galway and subsequently toured to Limerick, Cork and Dublin by the orchestra.
In 2015 he graduated from the Royal Irish Academy of Music (1st Class Honours, BA in Composition) studying under Dr. Kevin O'Connell and Jonathan Nangle. He has participated in masterclasses with acclaimed international artists such as Peter Ablinger, Jennifer Walshe, Sir Peter Maxwell Davies, Jorg Widmann, Jonathan Dove, Liza Lim, Houston Dunleavy, Sebastian Fagerlund, Gráinne Mulvey, Deirdre Gribbin, Andrew Hamilton and others. Over the past number of years his work has been performed by many leading Irish and international musicians including Kate Ellis, the Scordatura Ensemble, the Residente Orkest (Hague Philharmonic), But What About, David Brophy, Paul Roe, Sarah Watts, Crash Ensemble, the Dublin Laptop Orchestra, Alluna Ensemble, the Fidelio Trio, David Adams, Rhombus Quintet, John Feeley, Izumi Kimura, Nick Roth, Alexander Bernstein, Kirkos, the Arioso Quartet and the Irish National Youth Ballet.
Robert also has vast experience as a teacher and received an Associate Diploma (ARIAM) from the Royal Irish Academy of Music in piano teaching. He taught both privately, and at a Dublin school for over six years the subjects of piano, keyboard and music theory. Most recently he devised Budding Sounds: an environmental education and sound art series with students from Clonburris N.S. and Rathfarnham Parish N.S. in Dublin in collaboration with Climate Love Ireland. He has also devised and delivered Composition and Sound Art courses for young people with Music Generation South Dublin, Music Generation Wicklow, and also in Dublin schools in collaboration with Alternative Entertainment Arts Group.
Robert's projects have been kindly supported by the Engagement with Architecture Award, Arts Council Music Bursary Awards, South Dublin County Council Artist Bursaries, and the Arts Council Travel and Training Award.