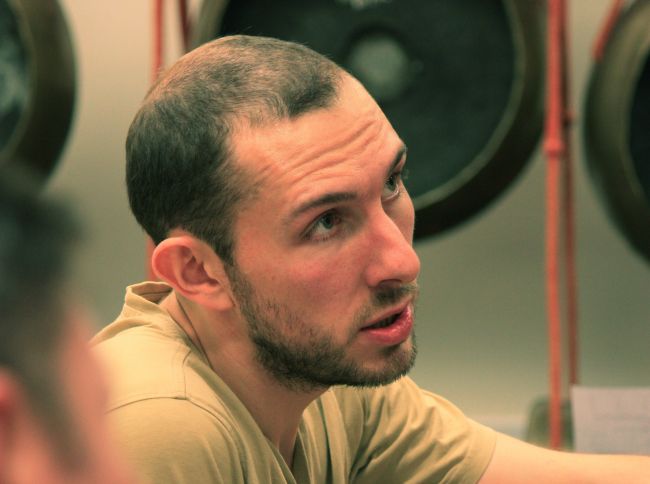 "There were these flutes carved from animal bones found to be over thirty thousand years old. Even the wheel was only invented around six thousand years ago - that's one thought that keeps me going."
Peter Moran was born in Dublin. He received his music degree from University College Dublin and his MA and PhD from the University of York in England. His compositions draw on his experience as a performer in many different areas of music such as gamelan, free improvisation, folk, blues and rock music. His music has featured in concerts and festivals across Europe, Asia and North America, and is released on Ergodos Records. Performers of his work include the microtonal ensemble Trio Scordatura, pianist Isabelle O'Connell, Crash Ensemble, Black Hair, Negativ Zed, the Fidelio Trio and the award-winning vocal trio Juice. He was the secretary of the Association of Irish Composers from 2012-2015.
He has held artistic residencies at the soundSCAPE Contemporary Music Festival in Italy and the Frédéric Chopin Conservatoire in Paris. Awards include first prize at the 2010 Carl von Ossietzky Composition Competition in Germany, and Ireland's Walter Beckett Cup for Original Song. He has also been the recipient of an Irish Arts Council Music Bursary, the Bill Whelan International Music Bursary and the Kildare Per Cent for Arts Commission.
He is very active in music education, working at all levels from primary schools to universities. In 2008 the New Music Alive! series of workbooks was commissioned by the CMC and Dublin City Council to bring composition and contemporary music to primary schools. He was Musical Director of COMA Yorkshire in England from 2007-11 and he is now the director of the Music Educators Orchestra in Dublin. He has taught composition, ethnomusicology and community music in universities in Ireland and England.
In 2012, he established Dublin's first Javanese gamelan orchestra in University College Dublin, where he now directs the department ensemble. In 2014, he acquired a complete set of gamelan instruments as a gift from the Sultan of Yogyakarta for Ireland's National Concert Hall, where he now directs four different ensembles, performing both traditional Javanese music and contemporary Irish compositions. His gamelan compositions have been performed in Ireland, the UK and Java. He also performs regularly in folk music sessions in Dublin.
Contemporary Music Centre, Ireland