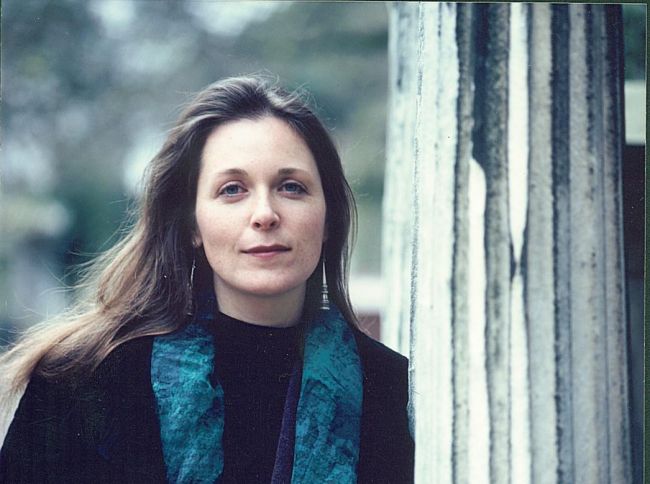 "A charismatic voice in new music".
Paul Conway, The Guardian
Deirdre is an award-winning composer who was born in Belfast. She received an Arts Foundation Award for her full-length opera 'Hey Persephone' which was staged at the Aldeburgh Festival and in London at the Almeida Theatre. In 2001 her orchestral work 'Unity of Being' opened the 'UK with NY Festival in New York City after the terrorist attacks of 9/11. Her work was featured in the New York Times. In 2004 her groundbreaking UK tour of her violin concerto 'Venus Blazing' was lit by Bruce Springsteen's lighting designer Jeff Ravitz and directed by theatre director Lou Stein. It toured major concert venues throughout the UK, including the Queen Elizabeth Hall in London's South Bank, where it sold out. Soon after, the BBC commissioned her to write a major Concerto for Percussion and Orchestra, featuring Colin Currie, called 'Goliath'. It featured lambeg drums from the Protestant marching band tradition and opened the Belfast International Festival. She was commissioned by the RTE for the National Symphony Orchestra of Ireland in to write a Piano Concerto for Finghin Collins. 'The Binding of the Years'. It was also performed by the BBC Symphony Orchestra and Ulster Orchestra and was broadcast on BBC Radio 3.
She is a graduate of Queen's University, Belfast and Guildhall School of Music, London. She received her doctorate from the University of London. She subsequently was a Visiting Arts Fellow at Trinity College, Cambridge and in 2013 was awarded a Sir Winston Churchill Fellowship for research on arts and disability programmes in the USA and Canada. She is a Fulbright Fellow and studied at Princeton University (USA).
Deirdre has always been interested in the juxtaposition of drama and concert music. Her second opera, 'Crossing the Sea', premiered at Wilton's Music Hall in 2008. She has written extensively for radio, including music for BBC Drama productions of 'Embers' starring Patrick Stewart and 'The Possessed' starring Benedict Cumberbatch. Her piece for solo cello, 'Reflected Glory' was a recipient of the PRS Woman in Music award and premiered at Huddersfield Contemporary Music Festival. She has written the score for the feature film 'My Kingdom' which starred Richard Harris and was nominated for a Screen International Award.
Most recently, Deirdre has extended her collaborative interests to the world of science and health. She was a Leverhulme funded Resident Artist at the MRC Laboratory of Molecular Biology, Cambridge in 2012 which resulted in her piece 'Hearing Your Genes Evolve' premiered by The Smith Quartet at the Cutty Sark performance space in Greenwich, London. She spoke about her work with music and genes on BBC's 'Woman's Hour' and was a keynote guest speaker at the EU Innovative Convention in Brussels at the request the of the President of the EU with Dr Sarah Teichmann. She is also featured in the Festival Ideas in Cambridge at The Sanger Institute in 2015 with The Vanbrugh quartet playing her quartet 'Hearing your genes Evolve.
In 2014 Deirdre was a Leverhulme Fellow based in Toronto, where she wrote music for interactive video devices for Children's Hospitals. 'Invitation to a Journey', a music theatre work featuring the work of architect and designer Eileen Gray premiered in July 2016 at Galway Theatre Festival and Project Arts performed by Crash Ensemble, Cois Ceim Dance and Fishamble Company.
She is also Artistic Director of 'The Venus Blazing Music Theatre Trust' working with vulnerable adults and children with learning disabilities. 'Hearing Your Genes Evolve' was featured in 'The Dark Gene'; a documentary about genetics was premiered at Munich Documentary Film Festival in May 2015 and was shortlisted for the 2016 Berlinale documentary prize.
Her setting of Seamus Heaney's poetry is available on the NMC label recording 'Island People' and on lyric fm label 'Irish Composers Series' featuring 'Unity of Being, Venus Blazing and Empire States. She was featured in 2016 'Composing the Island' Festival of Irish Music.
In 2019 her two new piano trios 'After the Eagle and 'Did you see and Angel Also?' were premiered by the Amatis Trio for BBC Radio 3 and recorded by Priya Mitchell, Natalie Clein and Julius Drake. 'The Binding of the Years' was broadcast on BBC Radio 3 by Finghin Collins and The Ulster Orchestra. This year she was featured at 'Focus Festival' New York and Northern Ireland Science Festival. Her music has also been performed in New Zealand, Hong Kong, San Francisco and, with Patricia Rosario, in Mumbai Con Brio Festival.
She has just finished 3 songs in the Irish language for The Irish Songbook Collection, which will be published online by CMC. Future commissions include a 'Dark Matter Hunting' for The Doric String quartet and performances of 'Kindersang' in New York and Berlin in 2020.
Contemporary Music Centre, Ireland