Ye that pipe and ye that play
Please be aware that due to the ongoing COVID-19 pandemic and the current restrictions on movement, we are unable to fulfil physical orders. We are endeavouring to fulfil score orders digitally and have made available to you a discount coupon "covid19" which you can apply to your order at checkout. Please note that digital scores are subject to availability, please contact kfennell@cmc.ie if you have any queries regarding your order.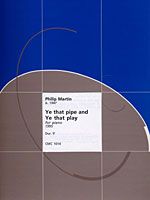 The initial idea for this piece came from the 'touch' of the keyboard, a tactile experience that developed into a battle between legato and staccato. For a short time the staccato element is dominant; later, with the 'piping' of the title, a legato expressive melody asserts the string side of the duo. In general the legato phrasing is in the right hand, while the left provides the staccato. The title is a reference to Wordsworth's poem, Ode on Intimations of Immortality from Recollections of Early Childhood.Commissioned by Feis Ceoil, Dublin, with funds provided by Siemens Nixdorf, as a test piece for the European Music Competitions for Youth (Senior Competition), 1996.
Contemporary Music Centre Editions
Contemporary Music Centre