William Dowdall Works for Solo Flute
CMC's online shop has Digital Scores, Printed" Scores, Books, & CD's all available to purchase online. The works contained within our Choral Music Catalogues are available to purchase online by licensed download.
"Please be aware that due to the ongoing Covid 19 situation we are currently not fulfilling physical orders, a digital version will be provided at a discounted cost. Please apply coupon code covid19 at the checkout"
Seachanges and RIAM Piano Syllabus pieces are still available to purchase online as a physical product. The price has been adjusted to include P&P.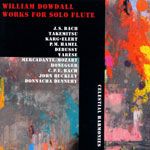 The music on this recording is a voyage of discovery across the repertoire of the solo flute from the masterpieces of the Baroque to the explorations of our own time. The performances by William Dowdall, Ireland's leading exponent of the classical flute, capture every nuance of the music. His interpretations are characterized by dazzling technical brilliance allied to a profound musical understanding, resulting in a landmark recording for the solo flute.