Una Santa Oscura
CMC's online shop has Digital Scores, Printed" Scores, Books, & CD's all available to purchase online. The works contained within our Choral Music Catalogues are available to purchase online by licensed download.
"Please be aware that due to the ongoing Covid 19 situation we are currently not fulfilling physical orders, a digital version will be provided at a discounted cost. Please apply coupon code covid19 at the checkout"
Seachanges and RIAM Piano Syllabus pieces are still available to purchase online as a physical product. The price has been adjusted to include P&P.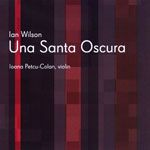 Ian Wilson's 'Una Santa Oscura' ('an obscure saint') is inspired by Hildegard of Bingen, a German abbess, mystic and composer. The music is partly ritualistic and meditative in nature, structured to reflect a 'cloistered' day. An electronically-generated tape part plays almost continuously, and much of its basis is one of Hildegard's compositions, 'Ave Maria, O auctrix vite', which is heard at the very end of the work. The work is performed by Ioana Petcu-Colan.