Twelve Études for Guitar
CMC's online shop has Digital Scores, Printed" Scores, Books, & CD's all available to purchase online. The works contained within our Choral Music Catalogues are available to purchase online by licensed download.
"Please be aware that due to the ongoing Covid 19 situation we are currently not fulfilling physical orders, a digital version will be provided at a discounted cost. Please apply coupon code covid19 at the checkout"
Seachanges and RIAM Piano Syllabus pieces are still available to purchase online as a physical product. The price has been adjusted to include P&P.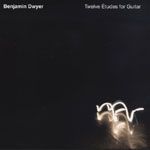 Begun in 1996, completed in 2003 and revised in 2006, this disc of composer Benjamin Dwyer's twelve guitar études marks the culmination of twelve years of exploration and experiment by the composer. Arranged into four books each dedicated to a different person, the études are performed by the composer.