Straight Lines
CMC's online store has Digital Scores, Printed Scores, Books, & CD's all available to purchase online. The works contained within our Choral Music Catalogues are available to purchase online by licensed download. All orders, both physical and digital take between 5 and 10 business days to be processed. 
Please note that not all scores listed for sale have parts.  Should you require parts (including tape parts) for any of these scores, they are available upon request by contacting our Production Coordinator, Keith Fennell. 
To visit the library by appointment, please see here for details on how to book.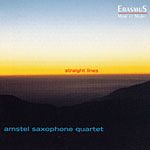 The Amstel Saxophone Quartet's compilation of contemporary European compositions includes Ian Wilson's So Softly (1992). The directness of communication is clearly represented in the piece, about which the composer wrote 'Cast in four sections, the rhythm of the outer tones has the rise and fall of breathing. The piece itself is mostly gentle, almost like a lullaby, with a sense of appearing from, and disappearing into nothingness.'
Artists
Amstel Saxophone Quartet: Naomi Sato (asax), Remco Jak (tsax), Bas Apswoude (tsax), Ties Mellema (barsax).